How to Create a Sustainable Capsule Wardrobe You'll Love
Sustainable capsule wardrobes are created of foundational pieces that help you build a versatile wardrobe without limiting your personal style. In addition to the capsule wardrobe staples, it is always a good idea to keep incorporating items that reflect your particular style and promote sustainability. This will help you to build a wardrobe mix-and-match goods, while also allowing you to wear everything you own on a regular basis.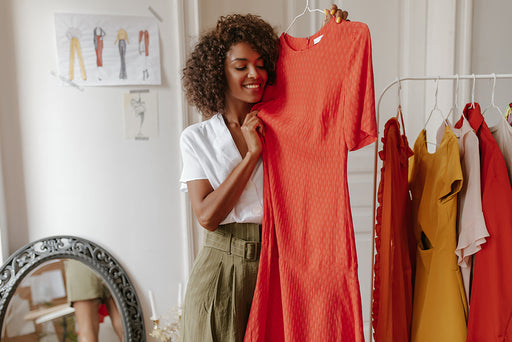 Sustainability may appeal to you as a way of limiting unnecessary purchasing (at least in terms of addressing the effects of proper seasonal or long-term storage), it may be the allure of escaping fast fashion and reducing clutter, both in your own closet and on our planet, or it may even be the simple pleasure brought by the pleasing aesthetic that natural, sustainable clothing brands radiate. Whatever your journey on the sustainability path may look like, it will prove a much pleasanter ride if you start thinking about creating a sustainable capsule wardrobe.
What Is a Sustainable Capsule Wardrobe?
The capsule wardrobe may appear to be a recent trend, but its origins extend back to the 1970s when it started with the career woman in mind. The capsule wardrobe's current popularity is a confirmation of its timeless appeal. Although the definition of a sustainable capsule wardrobe varies depending on who you ask, the essential concept remains the same.
A capsule wardrobe is all about functionality and simplicity. A capsule wardrobe consists of a smaller collection of well-made, high-quality clothing. This type of wardrobe is in contrast to an abundance of clothing and shoes – so many that you can't possibly wear them frequently. Creating a capsule wardrobe is also a practical way to get rid of the cheap, low-quality items that aren't serving you well.
Seasonal capsule wardrobes are a common practice, as seasonally, your clothing needs may change. As a result, most people will have two capsule wardrobes: one for spring/summer (summer work capsule) and one for fall/winter. A capsule wardrobe usually includes around 20 to 30 clothing items for each season.
Protect What You Love with Exquisite Garment Storage
Free US Shipping & Free Returns
4 Tips for Creating a Sustainable Capsule Wardrobe
It's difficult to pinpoint exactly why the sustainable capsule wardrobe has become so popular in recent years. Perhaps the rise of fast fashion and its impact on the environment is motivating people to rethink their wardrobes and shop sustainably with slow fashion. Whatever the underlying cause, an increasing number of men and women are changing their shopping habits. In light of this, we have gathered a few helpful tips that will ease your transition from an unconscious to a sustainable wardrobe.
1. Pick Your Favorites
Probably the smartest way to get started with creating a capsule wardrobe is by deciding what you like to wear the most. Think about the different types of clothes, colors, or fabrics that make you feel confident and comfortable, and start your collection from there, keeping only your favorite essentials. This is a process that might take a couple of seasons before it's fully completed.
2. Make a Checklist
As you create a sustainable capsule wardrobe, it might be reasonable to make a capsule wardrobe inventory. This inventory should list all your favorite clothing items that fall under the sustainability umbrella. Natural fabrics, such as organic cotton, silk, sustainable bamboo, wool, and linen clothing items should be on the list. And, don't forget to include your favorite accessories, shoes, and jewelry. Having everything you love on one list should make creating outfit combinations easier.
3. Clean Out Your Closet
Cleaning out your closet first may make it easier to identify pieces for your capsule wardrobe. This might prove to be a massive project, so set aside some time to make sure you evaluate all your clothes. As you sort through your wardrobe, separate the clothes into labeled piles (favorite essentials, clothes to resale or donate, clothes to recycle). By completing this important step, you will be left only with the clothes that you enjoy wearing the most and will declutter a fair amount of storage space at the same time.
4. Create Your Style's Aesthetic
Today's fashion industry offers more in terms of fabrics, textures, design, and shape than ever before. So, it is understandable why the choices of essential clothing items can feel so overwhelming. A simple cotton tee is no longer so simple, as now there are multiple variations of this basic fashion staple. To avoid getting frustrated while standing in front of a closet full of difficult-to-match clothes, try focusing your attention on a few favorite colors and textures that represent your personal style best. It is always a good idea to include their closest shades in accessories and shoes.
8 Essential Items for Your Sustainable Capsule Wardrobe
Finding the perfect essentials for your minimalist wardrobe is an important part of building your unique capsule wardrobe. Investing in wardrobe staples will give your closet a solid, more organized feel and make all of your ensembles more fashionable. These essential items are not meant to overshadow your favorite statement pieces, but simply to improve on your outfits.
A blazer is a must-have for every capsule wardrobe. It's a wonderful layering piece for all seasons, can be dressed up or down, and instantly transforms an outfit.
Depending on your personal style, you can choose between a classic cut with a tailored fit or a more versatile, modern design. A boxy-fit blazer might also find its way to your capsule wardrobe, as an upbeat, trendy item. However, if you are choosing from current trends, keep in mind to opt for one as a middle-ground version, as trends tend to be fluid.
Avoid purchasing polyester, and instead, try investing in a quality cashmere blazer for your winter wardrobe, or a merino wool blazer for summer nights.
Knitwear today comes in many variations, so there is plenty to choose from when choosing sweaters for your capsule wardrobe.
A crew-neck knit sweater and a cardigan, however, are the two knitwear pieces that best complement a capsule wardrobe and help you create stylish, effortless combinations. There is no rule that you need both of these items in your closet, but at least one of them will certainly make a difference.
You can choose between stretchy, soft organic cotton; hippy-inspired wool knitwear; or a lightweight wool sweater that is flowy.
The classic white shirt is another must-have for a sustainable capsule wardrobe. This basic fashion staple is frequently worn by Parisian women, due to the effortless look it creates, as well as its adaptability. Here are more ideas on how to style a white shirt. Try including at least two high-quality, classic white shirts in your capsule wardrobe for both your professional and casual looks. For a more elegant twist on this classic clothing item, purchase a natural silk white shirt.
Choose between menswear-inspired classics, tailored pieces with modern fits, or flowy and artistic linen shirts.
The statement skirt is one of those unique pieces that grabs attention on its own but can be easily dressed down with some sneakers and a simple t-shirt. It is also an excellent choice as a part of a party outfit, paired with a silk top and some pumps. Whether you go for a bolder design and shape or for a more traditional length and style, a statement skirt certainly belongs in your capsule wardrobe.
Varieties of this staple include classic prints, artisan fabrics with mod cuts, feminine designs, or vintage-inspired items. A good measure here is one statement skirt per seasonal capsule wardrobe, so choose natural fibers like wool for your winter capsule wardrobe and organic cotton or silk for your summer collection.
One of the simplest and most flexible wardrobe staples is a basic t-shirt. This favorite clothing piece is appropriate for weekends, errands, nature hikes, and even a business casual office. It is a great addition to your sustainable summer capsule wardrobe. The basic t-shirt goes a long way when styling a distinctive jacket or trousers. It serves as a resting area for the eyes, allowing the attention-grabbing item to shine through.
You can choose between cotton essentials, classic v-necks or u-necks, easy lounge fits, or feminine, stretchy cotton t-shirts. Sustainable fabrics are very popular in the production of t-shirts, so it should be easy to find quality pieces that will last through the seasons.
No sustainable capsule wardrobe should be completed without at least one pair of jeans. The probability is that you will wind up with more than just one pair in your capsule, and that is perfectly reasonable.
To make sure you will be able to mix your favorite denim with all your casual outfits, try finding a light-wash and a dark-wash pair of jeans. Many factories today employ a fair-trade manufacturing process and use sustainable fabrics with both modern and classic cuts.
There are an incredible number of different types of jeans, but find classic cut and slim-fit pairs first, as they are the most versatile and adaptable when paired with other clothing items.
A neutral dress is an outstanding base piece that can be used all year round. Easy to style, this dress lends a light elegance and a chic effect to any situation. It pairs well with layers and accessories, like blazers, coats, tights, scarfs, handbags, purses, or shoes. The neutral dress usually comes in neutral colors like white, brown, cream, or black.
Depending on your personal style, you can choose between a silk slip dress, a basic knit dress, a merino wool dress, or one made from high-quality cotton.
You can create countless style combinations if you include a few long, loose blouses in your sustainable capsule wardrobe. The loose blouse is a perfect item for stylish, breezy, and natural-looking outfits. This essential clothing item can be easily paired with slim-fit jeans and heels, or with a pair of leggings, expressive boots, and an oversized scarf. The linen loose blouse might be your best friend on hot summer days, but you will never go wrong with cotton or silk.
Advantages of Having a Sustainable Capsule Wardrobe
The terms capsule wardrobe and sustainability go hand in hand. This combination is growing in popularity, as more and more people are sharing concerns regarding the impact today's fashion industry has on our planet. When discussing the advantages of having a sustainable capsule wardrobe, the environmental factors are significant.
Capsule wardrobes contribute to the planet's sustainability.
Single-season, low-cost fashion generates an excessive amount of waste. Inexpensive garments are most commonly made from synthetic fabrics (polyester, acrylic, nylon, fleece). It is a well-known fact that these fabrics are the least biodegradable fabrics on the market, and their manufacturing processes are far from sustainable.
In comparison, natural fabrics such as cotton, wool, linen, leather, or silk decompose naturally using the help of microorganisms.
Capsule wardrobes save time and storage space.
A capsule wardrobe will help you save time getting ready. Because items are fewer in number and all your favorites, deciding on an outfit shouldn't take as long. An additional bonus of a capsule wardrobe is all the storage space in your closet. You can utilize the large spaces better with extra large storage bags. This extra space will allow air circulation between your clothes, which will protect them from dust and dirt.
FAQs
1.How many items should be in a capsule wardrobe?
It is a good idea to have somewhere between 25 to 50 items in your capsule wardrobe. This total number of items should include everything: clothes, accessories, and shoes. The most important part of a capsule wardrobe is the timeless staple pieces, which will draw attention once styled into a variety of amazing, sustainable outfits.
2. How can I make my wardrobe more sustainable?
There are a few ways to help make your wardrobe more sustainable. First, when purchasing an item, read the label on the clothing and look for low-impact materials, with a minimum of 70% organic fibers. By choosing natural fabrics, you are investing in a garment that you will be able to wear for a longer period of time, without having to replace it with a new one. In this way, you contribute to the sustainability of the planet and your wardrobe.
3. How much does it cost to make a capsule wardrobe?
Creating a complete sustainable capsule wardrobe can be a large and pricey project. However, the good news is you don't need to purchase everything at the same time. Forming and completing this type of wardrobe can take several seasons, some detailed planning, and a lot of fun decisions. Start your capsule wardrobe by adding a few favorites that don't overwhelm your budget, and then enjoy watching it grow over the seasons.
4. Are capsule wardrobes realistic?
Sustainable capsule wardrobes can be a game-changer when it comes to the way you organize and wear your clothes. In addition to that, they promote sustainable fashion, which is of utmost importance for both the fashion industry and the environment. Not only are these capsule wardrobes realistic, but they help us move away from fast fashion, harmful synthetic fabrics, overconsumption, and massive waste. In terms of personal use, having a sustainable capsule wardrobe may offer several benefits, such as saving money and time, easy access to all your favorite clothing pieces, and environmental awareness.
Sustainable capsule wardrobes are created of foundational pieces that help you build a versatile wardrobe without limiting your personal style. In addition to the capsule wardrobe staples, it is always a good idea to keep incorporating items that reflect your particular style and promote sustainability. This will help you to build a wardrobe mix-and-match goods, while also allowing you to wear everything you own on a regular basis. Creating your perfectly styled capsule wardrobe might take a while, so enjoy the progress you are making and your new sustainable pieces along the way.
Filed under: fashion, sustainability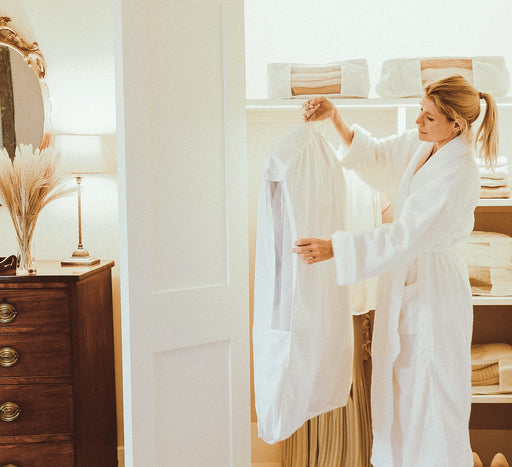 Protect What You Love
A better way to protect and organize your clothes
Receive 15% Off