Sustainable Clothing Brands: The Future of Fashion
It's no surprise that sustainable fashion is growing in popularity. And the savviest and most environmentally committed clothing brands are meeting the demand. Here are some of sustainable clothing brands that you can check out.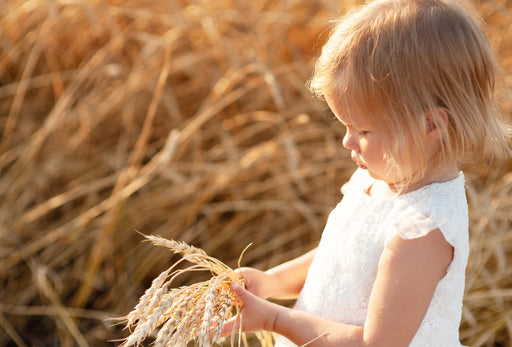 Consumers are smarter than ever before, and more and more shoppers are considering the impact their purchases are having on the environment. Americans alone throw away about 81 pounds of garments annually, which leads to overflowing landfills and loads of waste.
It's no surprise that sustainable fashion is growing in popularity. And the savviest and most environmentally committed clothing brands are meeting the demand.
What is Sustainable Clothing?
Sustainability has certainly become a buzzword in the last few years, and it has been applied to everything from city planning to education to farming. And even to fashion.

But what is sustainability? Though definitions abound, this definition from the UCLA Sustainability Committee is one of the most descriptive:
"Sustainable practices support ecological, human, and economic health and vitality. Sustainability presumes that resources are finite, and should be used conservatively and wisely with a view to long-term priorities and consequences of the ways in which resources are used."

So how does that apply to fashion? Sustainable clothing are pieces made of sustainable fabrics, such as organic cotton, hemp, and linen, that have less of an impact on the environment.

Sustainable clothing brands focus on being eco-conscious and attempt to reduce their carbon footprint. For instance, some sustainable clothing brands that produce their clothing with renewable energy sources and recyclable materials. This is meant to create as little waste and pollution as possible.
Sustainable fashion is also synonymous with these terms:
Slow fashion: The opposite of fast fashion, slow fashion aims to build clothing that is more durable and sustainable.
Recycled or upcycled fashion: Items that are no longer wanted can be recycled or upcycled into new, different textiles.
Organic or biodegradable fashion: This is the term for clothing that is manufactured using natural, organically grown materials. Examples include cotton, linen, hemp, flax, bamboo, or animal-based products, such as wool or cashmere.
Circular fashion: Similar to recycled/upcycled fashion, this refers to the lifespan of a piece of clothing, and how the materials used to make the item can be recycled into something else.
Eco-friendly fashion: Eco-friendly fashion avoids the use of synthetic materials, chemicals, pesticides, and dyes. Eco-friendly dyes are often certified by Bluesign or OEKO-TEX 100.
Protect What You Love with Exquisite Garment Storage
Free US Shipping & Free Returns
Sustainable Clothing: The Future of Fashion
Fashion is the third highest polluting industry in the world. If the current fast fashion practices continue, it is estimated that by 2050, the fashion industry will account for more than 26% of the carbon budget.

Fortunately, demand for more sustainable fashion is growing. It's this interest that is forcing the fashion industry to rethink its practices.
Sustainable fashion is the better choice for a variety of reasons:
Sustainable fashion makes a positive impact on the world.

When you support clothing brands that protect the environment in some way, you know you are making a positive impact. That's why brands like Patagonia and TOMS are so successful. Customers like knowing their dollars are going to companies that do good. 


Sustainable clothing brands cause far less water pollution, waste, and carbon emissions.

To be considered sustainable fashion, there are core standards every brand must meet. Sustainable production processes must require less water, utilize renewable energy to manufacture goods, use recycled/eco-friendly fabrics in their clothing, eliminate disposing in unethical ways, and ship their items using recycled materials.

These practices lead to a decrease in water and air pollution, carbon emissions decrease, and textile waste.

Sustainable garments are of higher quality than fast fashion.

Sustainable brands are often known to offer superior product lines and durable materials. When a product is made from recycled or organic materials, there is often a higher standard of manufacturing. Eco-friendly products don't undergo the same amount of processing as fast fashion items, so they are softer, stronger, and can be worn for many years.
Sustainable clothing supports fairer labor practices.

Fast fashion is not ethical; the workers who produce fast fashion are severely underpaid. Purchasing sustainable clothing is a way to support the welfare of others and protest unfair labor laws.
Ethical vs Sustainable Clothing
While searching for sustainable clothing brands, you may find some brands that are proponents of "ethical clothing" or "ethical fashion."
Ethical clothing incorporates morals into every part of the production. From the production line to the supply chain and everyone in between, ethical fashion aims to make the treatment of every animal, person, and thing as fair as possible.

That is not to say that sustainable fashion doesn't consider these things, but it does tend to leave out elements of the supply chain. Sustainability focuses on the environment and the use of renewable sources. Ethical fashion focuses more on empowering people.
But, an item can be both sustainable and ethical. For example, ethically sourced wool would be an example. The two are actually linked together because sustainable clothing curtails some of the issues that ethical practices hope to negate.

If you're interested for ethical clothing, look for "Fairtrade" on the label, which signifies that everyone and everything are treated fairly. Fairtrade ensures that materials are sold at better prices, employees have satisfactory working conditions, and laborers are not exploited.
Discover Sustainable Clothing Brands
If you want to add more sustainable pieces to your wardrobe, here are 15 of the best international sustainable brands.
Alternative Apparel 
This brand offers fast fashion but with more sustainable practices. Alternative Apparel has hemp-based clothing, organic cotton, and more. Most of the factories that produce this brand's apparel are also WRAP-certified.
Allbirds
Allbirds has long been a front-runner in the eco-friendly movement. They aim to make shoes better and longer-lasting by using Merino wool, TrinoXO, and recycled water bottles. Allbirds sells shoes for men and women, as well as accessories. 
Beaumont Organics
UK-based Beaumont Organics began in 2008 and has never swayed from their organic and ethical promise. They offer clothing and accessories, health and beauty products, baby items, and more.
Nudie Jeans
The Swedish clothing brand Nudie Jeans is known for their premium quality and environmentally conscious denim. Styles are available for both men, women, and children. You can also find shirts, knits, sweaters, and more.
Laara Swim 
If you are shopping for sustainable swimwear, see what the Danish brand Laara Swim has to offer. Their designs are crafted with recycled plastic waste that is pulled from the Adriatic Sea, North Sea, and the Mediterranean.
H&M Conscious
In the last several years, H&M has made drastic changes to its production practices to move toward more sustainable fashion. H&M Conscious is the retailer's dedicated line of sustainable and organic clothing. You can find basics, denim, pajamas and much more at a reasonable price.
Pact
If you are looking for organic cotton items, fair trade factories, and incredibly fashionable undergarments for men and women, consider Pact. They also offer carbon offset shipping.
prAna
prAna is the place to shop for yoga, running, hiking, travel, or swimming gear. prAna clothing is made with organic or recycled materials in fair trade factories and lists all of their production practices on their website.
Organic Basics
The environmentally friendly active collection from Organic Basics sets the standard for sustainability and performance. They use SilverTech, which is a blend of organic cotton and silver, which is cooling, odor-controlling, and luxuriously soft. They also only partner with fair trade factories.
People Tree
People Tree is well known for their wide selection of women's clothing. And, their practices are verified by the World Fair Trade Organization (WFTO).
MATE The Label
Everything that comes from MATE is sustainable, especially their activewear line, MOVE by MATE. For example, the cotton that makes their sports bras and leggings uses 87% less water than conventional cotton. 
Outdoor Voices
Known for their expansive inventory of activewear for men and women, Outdoor Voices has received a lot of acclaim. The brand uses recycled wool, CloudKnit, RecPoly and other recycled materials.
The Classic T-Shirt
The Classic T-Shirt offers a premium range of shirts made from organic cotton and handcrafted. The brand also advocates for the fair treatment of workers and farmers.
SassySpud
SassySpud is an Irish clothing brand that makes their ethical clothing 100% vegan. They also dye their casual wear with a printing process that dramatically reduces the amount of water used. And, their packaging is completely biodegradable and recyclable.
Plant Faced Clothing
Based in the UK, Plant Faced Clothing features ethical, vegan, and sustainable fashion choices. You can find options made from recycled or organic materials and water-based eco-friendly inks. The brand also has a Buy 1 Plant 1 campaign, where they pay for 1 tree to be planted in your name whenever you make a purchase.
Hayden Hill's Commitment to Sustainability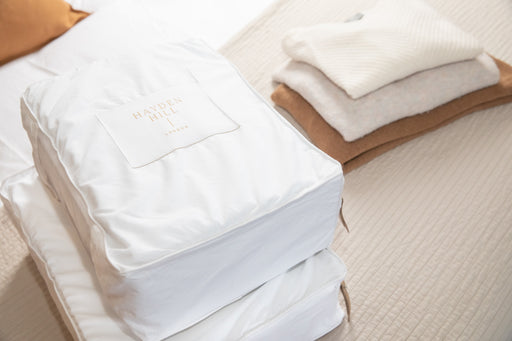 Hayden Hill is also deeply committed to sustainability. Our bags are made of 100% organic cotton certified through GOTS, which also guarantees the ethical treatment of workers. Hayden Hill garment bags have been designated a Carbonfree® carbon neutral product, and they are shipped to you in 100% recyclable packaging. We donate 1% of all sales to environmental charities through 1% for the Planet. Hayden Hill delivers sustainable and beautiful garment care to protect what you love and protect the environment.