The Best Skirt Type for Your Body
Chanel's design liberated women from the discomfort of heavy and long skirts. Now, they had a much more comfortable garment, made of lighter materials and of a length that allowed for easier, more fluid movement. This new design opened the door for many different types of skirt styles that followed.
Skirts have a long history that dates back to prehistoric times. But, it was designer Coco Chanel who updated the skirt for 20th-century women by designing a shorter, wider skirt that freed the legs and hit just below the knee.
Chanel's design liberated women from the discomfort of heavy and long skirts. Now, they had a much more comfortable garment, made of lighter materials and of a length that allowed for easier, more fluid movement. This new design opened the door for many different types of skirt styles that followed.
21 Different Skirt Styles
A-line Skirt
One of the most well-known skirt types, an A-line skirt fits at the waist and has a slight flare as it moves to the hem. It is also known as a pear-shaped skirt, is usually knee-length, and forms a triangular shape when laid flat.
In the spring of 1955, Christian Dior presented his collection called "A-line," making a huge splash in the fashion world.
Pleated Skirt
A pleated skirt, also known as an accordion skirt, has narrow pleats all the way around the skirt to increase movability and comfort. With the right styling, pleated skirts can have a slimming effect and be flattering for all body types.
Box Pleat Skirt
The box pleated skirt is one of several pleated styles. This type of skirt is commonly made of heavier fabrics to give the entire skirt volume and shape.
Pencil Skirt
A pencil skirt is a straight, narrow, and form-fitting skirt. The hem usually falls to or just below the knee with a slit in the back to allow for greater mobility. It gets its name from its shape, which is long and slim like a pencil.
Also known as a tube skirt, pencil skirts draw attention to the lower body and are particularly popular for office wear. Depending on the fabric and pattern of the skirt, you can wear one for formal and casual events.
Asymmetrical Skirt
These skirts have uneven or asymmetrical hems and come in a variety of shapes. This skirt is typically cut diagonally across the body, with a hemline that is higher on one side than the other.
Sarong Skirt
A sarong skirt is a simple wrap-around skirt that ties on one side and was inspired by traditional Southeast Asian skirts. This silhouette is especially popular when worn as a pool cover-up.
Sarongs come in a variety of lengths, colors, and prints and are typically made of lightweight fabrics. They look stunning on all body types because the fabric drapes with the natural flow of curves and can be cinched to highlight any and all shapes.
Circle Skirt
Also called a circular skirt, a circle skirt is a type of skirt that is fashioned from a circle. The cutout pattern's waist and hem are both curved. The silhouette of this skirt gives the appearance of a narrowed waistline.
Tutu Skirt
A tutu skirt is a tulle skirt with an elastic waistband and numerous layers of tulle fabric. This silhouette highlights your hips while narrowing your waist. Tutu skirts were originally only worn by ballet dancers, but designers have lengthened and updated the silhouette to make them suitable for other occasions.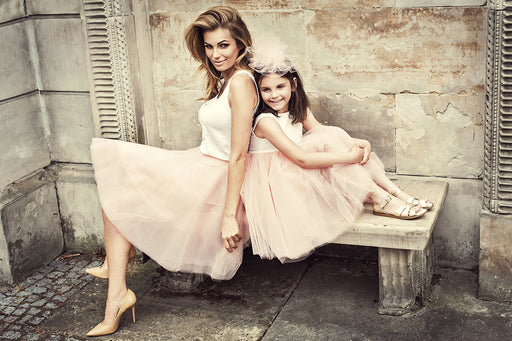 Flared Skirt
A flared skirt is similar to an A-line skirt, but it flares out much more than an A-line. It circles out as it moves down and allows for complete freedom of movement. This figure-flattering piece is perfect for all body types.
Tiered Skirt
These skirts flare in three sections– upper, middle, and lower. A tiered skirt is made up of fabric circles stitched together, often flaring out toward the bottom, making your waist appear narrow and deemphasizing your hips. Tiered skirts are available in a range of lengths, from knee-length to floor-length.
Handkerchief Skirt
Handkerchief skirts have asymmetric hems and are made from fabric panels of varying lengths sewn together to create a hem with several corners that hang down as points. The hem resembles a handkerchief held by the center, with the corners hanging down.
Tulip Skirt
As the name suggests, this skirt is shaped like an upside-down tulip. Tulip skirts are skirts with a belt-like waist and a tapering hemline that give the wearer a distinct look. They are known for their adaptability because you can wear them on both formal and informal occasions.
Protect What You Love with Exquisite Garment Storage
Free US Shipping & Free Returns
Denim Skirt
Also known as a jean skirt, denim skirts are available in a variety of styles and lengths to accommodate a wide range of people and occasions.
Some are designed to look exactly like jeans, with a front fly, belt loops, and back pockets. Others are designed more like other types of skirts, with a column of front buttons, side or back closures, or elastic waists. These skirts, like jeans, come in a variety of blue shades ranging from very pale to very dark, as well as other colors.
Bubble Skirt
The bubble skirt is fitted at the waist, flares out near the hips, and then becomes fitted again at the hemline to form a bubble shape, making your hips appear wider and fuller. The bubble silhouette originally debuted in the late 1950s and made a comeback in the '80s.
Mermaid Skirt
A mermaid skirt is slim-fitting in the waist and hips, flaring out just above the hem, similar to the shape of a fishtail. This silhouette draws attention to your hips and gives you an hourglass shape. Mermaid skirts are ideal for elegant looks and are often seen in semi-formal outfits or cocktail wear. These skirts are frequently used for wedding attire, with the back forming a train that can be short or extremely long.
Broomstick Skirt
Popular in the 1970s and 1980s, this type of skirt has a narrow waist and a flared shape, similar to a traditional broom. Broomstick skirts are made for easy movement and casual wear, with small pleats, an elastic waistband, and lightweight, breathable fabrics. This silhouette, with its high coverage, is a favorite of many women.
Wrap Skirt
Wrap skirts fold over the body, overlapping and closing with ties or button closures. Wrap skirts highlight the waist and camouflage the stomach. It is one of the most flattering skirts for all body types.
Cowl Skirt
One of the less common skirt types, a cowl skirt has draped folds on one (asymmetrical) or both (symmetrical) sides that create the illusion of enlarged hips.
Gored Skirt
Gored skirts are made up of triangular pieces of fabric called gores. A skirt's gores are narrower at the top of the waist and wider toward the bottom of the hemline. When these gores are assembled together, the skirt forms an A-line shape that flatters most body types. This style provides a flattering fit at the hips as well as ease of movement while walking.
Dirndl Skirt
Dirndl skirts are traditional folk skirts from Germany and Austria. The skirt is full and wide, with a tight waistband. Summer dirndls are knee-length or shorter and typically made of light cotton, linen, or velvet. Winter dirndls are longer and made of thick, warm cotton or wool.
Skater Skirt
Skater skirts are short, cute, and fashionable. They're a fun mix of A-line and circle skirts but a shorter length. Skater skirts are lightweight and have a casual vibe due to the lightweight fabrics used to make them.
High-waisted Skirt
A high waistband can be found on many different skirt types, including a-line, skater, denim, pencil, and mini skirts. High-waisted skirts, when paired with a fitted, tucked-in top, create the appearance of a slim waist.
Types of Skirt Lengths
In addition to the variety of skirt types, there are also three different types of skirt lengths.
Mini Skirt - These skirts generally come to the mid-thigh. Because mini skirts make legs appear longer, they are popular among shorter women. Mini styles can be different varying from fitted and tight skirts to full, flared skirts.
Midi Skirt - Anything between the ankle and the knee is considered a midi skirt. Because of the wide range of lengths available, almost every body type can find a style that works for them. Pencil skirts, A-line skirts, and pleated skirts are among the many styles available in midi length.
Maxi Skirt - Maxi skirts fall at the ankles or the floor. The skirt should end at the ankle or just below, so finding the best skirt will depend on a person's height and proportions. A maxi skirt can be loose and flowy or tight and comes in various colors, prints, and materials.
FAQs
What are the different skirt styles?
There are a number of different styles of skirts. There are some well-known styles, such as A-line and high-waisted skirts, but there are also plenty of others, such as the broomstick skirt, tiered skirt, and tulip skirt. There are skirt styles to suit every taste and body type.
What style of skirt is fashionable?
Skirt style is a fashion trend that changes constantly and what is in this year can be out the next. However, that being said, there are some styles that are considered timeless like the pencil skirt or the A-line skirt, or for a more casual look, the denim or sarong skirt.
Knowing the different types of skirts makes it easier to find the types that best fit your style preferences and body type. There is something for everyone, whether you prefer classic pencil skirts or something a little more daring, such as asymmetrical skirts.
Regardless of what skirt style you prefer, all skirts will last longer if cared for properly. Store your favorite skirts in high-quality cotton storage bags to protect them all year round. Hayden Hill hanging garment bags are made of 100% organic, soft cotton that is environmentally friendly and allows your favorite pieces to breathe while keeping them protected from damage. We deliver sustainable and beautiful garment care to preserve and protect the clothes you love most.