What is Velvet?
How much do you know about velvet? Understanding the types of velvet, how to care for each, and its advantages and disadvantages will be helpful the next time you are shopping for velvet clothing or home accessories.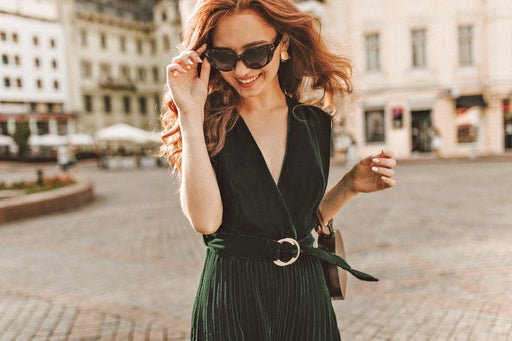 Actress Eva Gabor said, "All a girl needs, at any time in history, is simple velvet and basic diamonds."
For centuries, velvet has been a coveted fabric with everyone from royalty, to stars, to dinner party guests. Even Eva knew that a velvet dress with diamond accessories would be a stunning look for many occasions.
But, how much do you know about velvet? Understanding the types of velvet, how to care for each, and its advantages and disadvantages will be helpful the next time you are shopping for velvet clothing or home accessories.
What is Velvet?
Velvet is a type of woven fabric that can be made from cotton, linen, wool, and synthetic fibers. It has a short, thick pile and is known for its soft texture. When it was first created, velvet was made from silk, which is why velvet became synonymous with softness and elegance.
This softness stems from the distinctive arrangement of the fibers. It is a woven tufted fabric with a uniform distribution of cut threads.
This unique fabric was once prohibitively expensive and worn only by royalty and nobles.
Protect What You Love with Exquisite Garment Storage
Free US Shipping & Free Returns
The History of Velvet Fabric
Velvet fabric has a long and distinguished history, with the oldest weave resembling velvet dating back to 2000 BC in Egypt. And, sometime between 400 BC and AD 23, China produced weaved fabric that resembles the velvet fabric we know today.
Gradually, the Middle East and Eastern Europe began to produce velvet more frequently, with expert weavers creating velvet in Turkey, Greece, and Cyprus.
Velvet production increased dramatically throughout Europe during the late Middle Ages and Renaissance periods. Velvet fabric, which was meticulously made, was most typically worn by royalty, nobles, and religious dignitaries who used it primarily for the production of their formal robes.
Because of advancements in manufacturing and materials, modern velvet is now widely available and less expensive than in centuries past.
Types of Velvet
A double loom is used to weave velvet. The rich, velvet pile is created when the fabric is removed from the loom by cutting through both sides and leaving the pile of delicate fibers in between.
But that's where the similarities end. There are a variety of different types of velvet that are distinguished by the fibers used to make the fabric and the methods for making it.
Below are a few of the most popular types of velvet.
Crushed Velvet Fabric
The crumpled, crushed appearance of this velvet fabric is achieved by twisting the fabric while it is still wet. The crushed velvet effect can also be produced by pushing the pile in a specific manner.
This type of velvet fabric has an extremely sparkly appearance and texture that is ideal for objects that flow and drape.
How to Care for Crushed Velvet
Crushed velvet can be machine washed in cold water, as long as the manufacturer's care label does not say otherwise. It should be placed in a mesh laundry bag first and washed on a gentle cycle.
Let velvet items hang to air dry, and use a steamer to remove any wrinkles. Avoid using an iron on crushed velvet.
Embossed Velvet Fabric
Embossed velvet has its pile crushed only in certain areas, resulting in contrasts that create a pattern on the material.
This is accomplished by using a heat stamp pressing on the pile of fabric and forming a pattern in the velvet. The embossing, which can be done using metallic or block colors, adds character and personality to the velvet.
How to Care for Embossed Velvet
Embossed velvet should be dry cleaned, rather than washed. And, these garments should never be ironed. Use steam only to keep from damaging the material.
Velveteen Fabric
Velveteen fabric has a dense and short pile with a fairly consistent distribution, giving it the appearance of suede.
Velveteen is often made of 100% cotton and has more substance and less drape than standard velvet. It is also more matte due to its shorter pile.
How to Care for Velveteen
Cotton velvet is very heat-resistant, so it can be pre-washed and even ironed. But always do so inside out.
However, avoid pressing seams with your iron, since this may leave marks. If you don't want to risk damaging velveteen, steaming is always a safe option since it doesn't touch the fabric.
Silk Velvet Fabric
Silk velvet is one of the most difficult fabrics to work with since it is incredibly fluid. These luxurious textiles are typically smooth but embossed, brocade, and burnout silk velvets are also available.
How to Care for Silk Velvet
Silk velvet should always be dry cleaned and not hand- or machine-washed. And, similar to embossed velvet, this type of velvet fabric should never be ironed.
Panne Velvet Fabric
Panne velvet is a crushed velvet with the pile flattened in the same direction all over the fabric.
The majority of panne velvet fabrics are quite elastic, since they contain elastane and, in some cases, are knitted rather than woven.
They are often constructed of synthetic fibers, such as polyester.
How to Care for Panne Velvet
As with other types of velvet, the safest way to launder panne velvet is to hand-wash it or have it dry cleaned, hang it to air dry, and remove wrinkles with a steamer.
Advantages and Disadvantages of Velvet Fabric
Velvet is a silky fabric that comes in a variety of colors. It adds a touch of luxury to every room, outfit, or accessory.
Because of its luxurious feel, velvet is commonly used in home decor such as curtains, throw pillows, and bedding, as well as clothing such as robes, eveningwear, and lingerie.
Velvet has advantages and disadvantages, just like any other material. Knowing these pros and cons can help you decide whether velvet fabric is appropriate for your home and wardrobe.
Velvet Fabric Advantages
Velvet has a silky and soft texture.
Velvet complements a variety of interior design styles and has long been a favorite with designers.
Velvet is associated with luxury and royalty.
Velvet is warm and ideal for wearing in cold temperatures.
Velvet Fabric Disadvantages
Velvet wears out quickly if used frequently.
Velvet may be more difficult to clean than other materials.
Velvet absorbs dust easily.
Any fabric damage to velvet will degrade the texture.
How to Wear Velvet (Without Looking Like a Pincushion)
Unless you are going to a holiday party, wearing a velvet dress may not be appropriate or not your style.
But if you like the fabric, there are still ways to incorporate it into your wardrobe without donning a velvet jumpsuit. Here are a few more understated ways to wear velvet.
Single clothing item.
Wearing either a velvet top or pants will add texture and warmth to an outfit without going overboard.
Blazer.
A velvet blazer is an edgier version of a timeless piece. And, in cold weather, it is a layer that brings coziness and style to a work or casual outfit.
Handbags.
A velvet handbag lends luxury and polish to any ensemble, whether dressy or casual.
Shoes.
A pair of velvet flats made an ordinary outfit pop. Just check the weather before you leave home, so your shoes don't get damaged by rain or snow.
Scrunchies.
This 80s and 90s fashion accessory is back in style, and who can deny the convenience and versatility of the scrunchie? Grab a couple of the velvet variety and keep them in your handbag for whenever the need arises.
General Advice for Washing and Drying Velvet
Because of velvet's pile, washing this delicate fabric without damaging it requires special attention and care. It is always wise to consult the manufacturer's care label before doing anything.
If the label permits it, you can wash velvet at home using cold water and a gentle detergent designed for velvet. To wash a velvet item, let it soak for a few minutes in a detergent-water solution, and then rinse the garment several times to remove all detergent.
Rolling the garment in a towel to remove excess water. Only squeeze or wring an item if it is crushed velvet. And, never use bleach or harsh chemicals on velvet.
Is Velvet Sustainable?
Velvet's effects on the environment are hard to define since it can be manufactured from a range of materials. If you are looking for a velvet item, we recommend shopping for a secondhand piece that will not contribute to fast fashion polymer or silk manufacturing practices.
Another option is to look for velvet made of TENCEL Modal or Lyocell, which is created from responsibly harvested beech trees and employs eco-friendly manufacturing processes. Though harder to find, recycled velvet is also an excellent alternative.
FAQs
What is velvet made of?
Velvet is a pile weave fabric that can be produced from silk, cotton, or synthetic fibers and has a soft, downy surface produced by clipped strands. The underside of velvet fabric is smooth and displays its weave.
What is real velvet?
Today, velvet is made of synthetic and natural fibers, but it was initially made of silk. Pure silk velvet is incredibly rare and expensive. The majority of velvet labeled as silk velvet is a blend of silk and rayon. Polyester, viscose, rayon, and nylon are all examples of synthetic velvet.
What is velvet material called?
There are many different types of velvet, but the most common type of velvet is velveteen. Velveteen is a soft-to-the-touch, multi-layered fabric with threads pressed close together.
Is velvet cotton or polyester?
Though velvet was originally made of silk, today velvet can be produced from both synthetic and natural fibers. Velvet can be made from cotton and polyester.
Velvet is a beloved fabric because of its soft texture and elegant appearance. You can enjoy velvet in your home decor and wardrobe by identifying the type that works best for your needs and keeping its care instructions in mind to extend its life.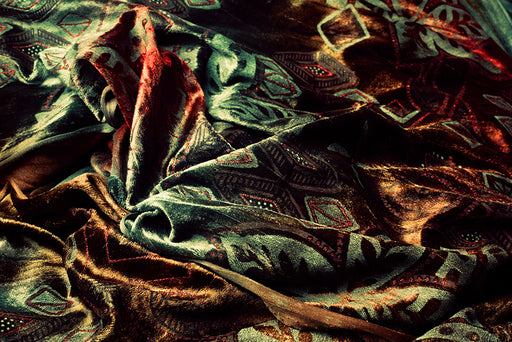 One way to keep your most valuable velvet items in good condition is to store them properly in high-quality garment bags. Hayden Hill bags offer a sheer, organza side panel so you can see your pieces while in storage. In addition to being machine washable with detachable zipper pulls, our bags feature a wide, 4-inch gusset that allows you to store a variety of cherished garments.
Hayden Hill delivers sustainable and beautiful garment care to preserve and protect the clothes you love most.
Filed under: clothing care, fashion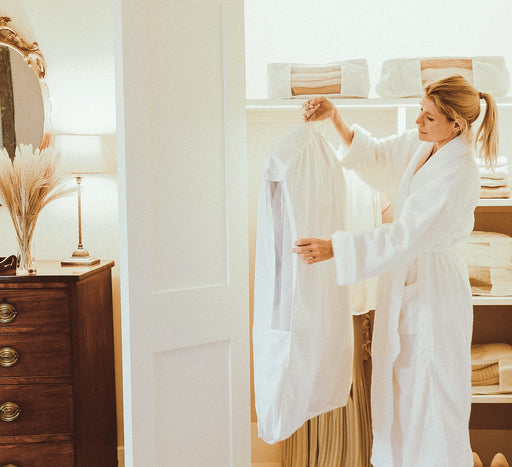 Protect What You Love
A better way to protect and organize your clothes
Receive 15% Off