Everything You Need to Know About How to Store Wool Sweaters
Storing your wool sweaters properly is key to ensuring they will last a lifetime. For that reason, we have prepared a detailed guide that should help you store and protect your wool sweaters.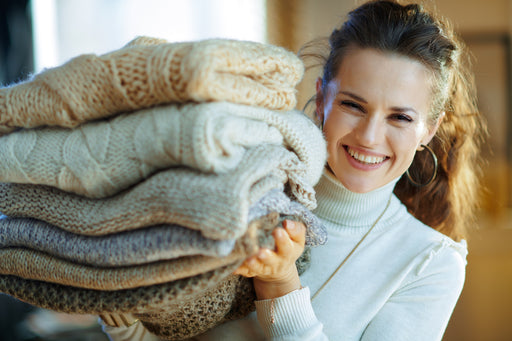 A master closet that is spacious, functional, and beautiful is a must in any home. But no matter how well-appointed a closet is, it is useless if the items inside are not cared for properly.

Clothing, shoes, jewelry, handbags, and other accessories all require proper storage and care, both in-season and out-of-season, to extend the life of the items.

One type of item that requires special attention is wool sweaters.

Woolen garments can be heavy or loosely woven. Because of that, there's no one-size-fits-all solution to storing wool sweaters. However, there are some basic guidelines to take out the guesswork of wool storage.
What to do Before Storing Wool Sweaters
Declutter
Before packing your items away, it is an opportune time to declutter your closet to make space for any new additions as well as remove any items you no longer want.

If a piece of clothing does not fit well, is damaged or permanently stained, or if you can't remember the last time you wore it, it is probably time to let it go. Anything you haven't worn or is in good condition can be donated.

Clean
The next step in proper wool storage is to ensure the items are clean. Even if the wool looks clean, you don't want any odors or bacteria remaining trapped in the fibers for several months. So, take everything to the dry cleaner or hand wash them at home. Also, sweaters should be completely dry before storing so they don't develop a musty smell.
Location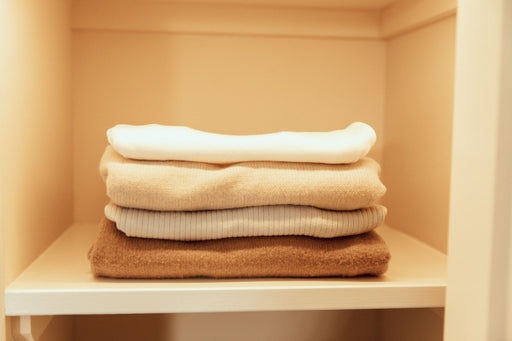 Pick a dry, cool location to store your sweaters. For example, don't store your winter wear in the basement because the chance of excess moisture is high. Somewhere in a closet where the sweaters will not be exposed to light or heat is best.

After choosing the location, clean the shelves or floor, let it air dry, and then add some cedar or another moth-repellent.
Protect What You Love with Exquisite Garment Storage
Free US Shipping & Free Returns
The Best Way to Store Wool Sweaters
After your sweaters and storage space are ready, it is time to choose how you plan to keep the items safe. When not in use, your wool garments are more vulnerable to mold, dust, clothes moths, and general wear and tear. Luckily, with a few simple steps, it is easy to protect your sweaters and keep them in peak condition.
Types of Storage
Vacuum-Packed Bags
Although many people use vacuum-packed bags for traveling, these bags are also great for storing sweaters. Not only are your clothes protected from moths and dust, they take up less space. That will make things easier when it comes time to arrange the bags in the storage space.

But vacuum-sealed bags are not foolproof. Over time, the seal will weaken, sometimes introducing air and moisture into the bags. You can prevent that from happening by resealing the bags occasionally.
Clothes Storage Bags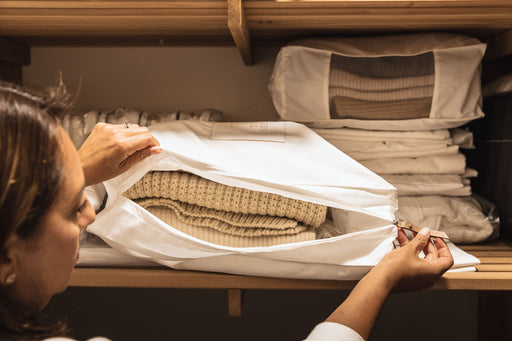 Not to be confused with garment bags, these storage bags are often rectangular in shape, zippered, and made with a breathable fabric.

Hayden Hill square clothes storage bags are made of breathable, organic cotton, have large zippers to prevent clothes from snagging, and are available in two sizes.
Boxes and Bins
Another option are storage boxes and bins. These containers typically take up the most space, which is why collapsible cotton bins work best. Because these bins are made of cotton, wool sweaters are able to breathe while keeping dust and pests out. Put the heaviest knits on the bottom.

Plastic bins that go under the bed or on the upper shelves of your closet are acceptable, too. To counter any potential humidity getting trapped inside, place some silica packets in the bins before adding your sweaters.
How to Fold Wool Sweaters
The best way to store wool sweaters is to fold them. This helps keep their shape and also prevents wrinkles.
Fold sweaters like a pro by following these steps:
Turn the sweater face down on a flat surface and smooth out any wrinkles.
Vertically fold in one side of the sweater, stopping just to the side of the neckline. Then fold the sleeve backward to line up the cuff with the outer edge of the garment.
Do the same with the other sleeve.
Take the hem of the garment and horizontally fold it up to the top of the sweater.
Flip over the sweater, and place it on a shelf, in a drawer, or in a sweater bag.
Note: If the garment is thick or has a chunky knit, roll it instead of folding it. Use two loose elastic bands to keep the roll secure.
Other Tips on How to Store Wool Sweaters
These other general guidelines are helpful to keep in mind when storing wool sweaters.
Don't Hang Wool Sweaters
We recommend never folding sweaters made from heavier natural fibers like wool, angora, and cashmere. The weight of the fabric will cause them to stretch and lose shape. Even a sweater made out of cotton can stretch when it's hung incorrectly.
Place Items in a Sweater Storage Bag
Stack folded sweaters together, and place them in a breathable sweater storage bag. Take care not to stuff too many items into one bag to minimize wrinkling.
Hayden Hill cotton storage bags feature a sheer, organza side panel so you can see your pieces while keeping them protected from light, dust, and moths. Our bags preserve the beauty of your clothing whether you are storing them for a season or long term.
Keep Pests At Bay
Regardless of which method you choose for storing your wool garments, you need to be aware of the risk that moths and other insects pose to your clothing. Once infested, clothes moths can be incredibly tricky to exterminate and can completely destroy your wool items.

That's why it's important to be proactive and take the necessary precautions to prevent moths. You can use cedar chips or blocks or lavender-scented sachets to keep pests away. Lavender soap, mint leaves, and neem oil will also do the trick. Not only will moths stay far away, but the scent is pleasant.

Keep in mind that any clothing that vaguely smells of human odor, whether from sweat or oils, can attract clothes moths. That is why it is so important to wash your woolens prior to sealing them away with cedar or lavender.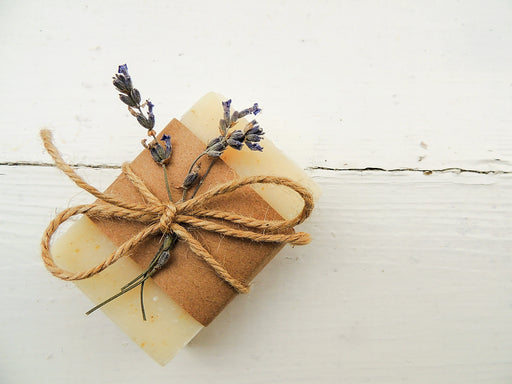 Don't Mix Different Fabrics
Be careful when storing natural textiles. Though cashmere is a type of wool, they are not the same fabric. You never want to put the two materials together in the same storage bin or bag, because the materials could compromise one another.
Storing your wool sweaters properly is key to ensuring they will last a lifetime. Hayden Hill delivers sustainable and beautiful garment care including long garment bags to protect what you love for years to come.