11 Under-Bed Storage Solutions Your Bedroom is Begging for
If you need additional storage for your belongings, then taking advantage of the space underneath your bed may be a good idea. The ideal under-bed storage system will allow you to keep your belongings neat, organized, and well-edited.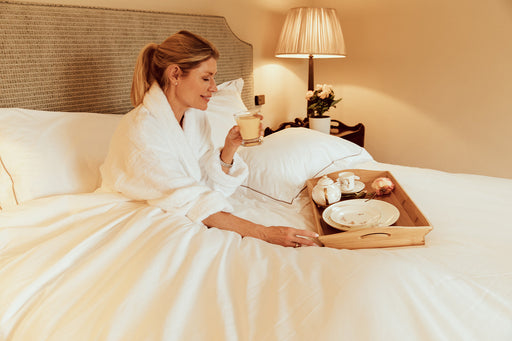 Who isn't looking for more storage space in their house? And, if that space is tucked away out of sight, even better.
Under-bed storage provides a way to store belongings out of sight but in an easy-to-access way.
So, we've put together 10 clever storage ideas to help you leverage the space under your bed.
11 Under-Bed Storage Solutions
These solutions will keep your items contained, protected, and organized. While functionality is important, most of these ideas also take into account style and design, so you don't have to sacrifice the look and feel of your room to improve organization.
1. Extra Large Cotton Storage Bags
The large storage bags have a wide 5.25in gusset, which makes it easy to store your treasured pieces safely and without creasing. It is also machine washable, giving you a timeless storage solution for your sweaters and bed linen under your bed.
2. Plastic Storage Bins
Sealed plastic containers are your best bet for an easy, simple storage solution that will keep your possessions safe from pests and dust. Plastic under-bed storage boxes offer a variety of useful features such as a locking lid and wheels that allow you to easily access your bins whenever the need arises.
3. Wicker Baskets
A wicker basket may be a better option than a plastic bin if you want something more visually appealing. Wicker baskets combine utility and style and are available with or without lids and handles.
4. Storage Containers With Wheels
A container on wheels may be the ideal option for under-bed storage depending on your flooring. Look for lidded bins to keep your belongings safe from dust that can collect beneath the bed.
These bins are often visible from underneath the bed due to their size, but there are simple ways to hide them if they don't match your decor. The size of your bed linens can assist in concealing the bins. To cover the gap between the floor and the frame, buy a duvet that is one size larger than your bed.
5. Foldable Under-Bed Bags
Foldable under-bed bags offer a surprising amount of space for clothes. They usually come with a clear plastic cover that acts as a window to the inside, and the zipper closure keeps items protected.
These bags are very lightweight because they are soft-sided, especially when compared to some of the more rugged options on the market. The fabric construction also allows these pieces to fold up easily when not in use, which is ideal for those with limited space or who intend to use them infrequently.
6. Vacuum Storage Bags
To get the most out of your under-bed storage, consider using vacuum seal storage bags to store the most items in the least amount of space. Fill the bags with bulky, soft items and use a vacuum attachment to compress them. This reduces the volume of the items, allowing them to lay flat and stack well.
Items such as ski suits or linens are the best ones for vacuum bag storage since the contents are guaranteed to get wrinkled.
7. Storage Trunks
Under-bed storage trunks are perfect for concealing and storing blankets, bedding, and shoes. A pair of vintage-style trunks add visual interest to a bedroom and provide storage space for bulky items. They are available in a variety of colors and coverings.
8. Bed Risers
It's difficult to store much underneath a low-to-the-ground bed. In those situations, a set of risers can be useful. Risers are commonly used to assist college students in making more space in their dorm rooms, but they can also be used when you organize your house.
Risers are available in a variety of heights and colors to match the finish of your existing bed frame, or they can be easily concealed with longer bedding or a bed skirt.
To ensure you have enough space, measure the storage containers, baskets or cotton storage bags you intend to use. Then, before investing in a specific set of risers, determine the current space between the floor and the frame. This ensures that the containers you purchase will fit perfectly beneath your bed.
9. Bed with Built-In Drawers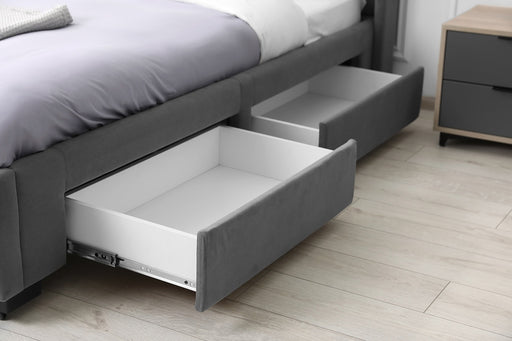 For a more attractive solution, consider purchasing a bed with built-in storage. Drawers on both sides of the bed can provide useful extra storage and look beautiful.
This bed style is especially popular in kid's rooms because, despite the fact that their clothing is smaller, the amount of clothing can be significant to account for different sizes of clothing and accessories. Kids can grow out of sizes quickly, especially in their younger years.
10. Platform Bed with Storage
A platform bed typically sits flat on the floor with no storage, but that doesn't mean you can't find a style that has built-in storage.
With this particular style, the platform bed is positioned on top and all visible clutter is tucked away in the platform's storage drawers or cubbies. If your bed has open shelving, use it to store books, magazines, or décor.
11. Under-Bed Shoe Organizer
If your shoe collection has started taking over your closet, you may be looking for other ways to organize your shoes. If so, consider an under-bed shoe organizer. These organizers often have features such as handles for easier movement and adjustable dividers to customize the sections for boots and heels. Typically, they also have a clear plastic cover that makes it easy to locate any pair of shoes.
What to Consider When Choosing Under-Bed Storage
Before deciding which storage solutions are best for you, consider these factors to help narrow down your options.
Materials
The best storage container material should be determined by what you intend to store. Fabric bins are breathable and ideal for clothes or blankets, and plastic bins are ideal for games and toys because of their durability.
Another factor that can influence whether a material is right for you is how easy it is to clean. If you don't want to deal with vacuuming or wiping down your storage containers, consider using a material that can be easily washed.
Furthermore, some materials, such as certain types of canvas, have very specific cleaning instructions that must be adhered to, so make sure you're willing to follow those directions before investing in a specific storage solution.
Protect What You Love with Exquisite Garment Storage
Free US Shipping & Free Returns
Design
Specific design elements of storage containers can significantly impact how well they meet your needs. If you plan to access the stored items regularly, look for a container with handles and a base material that will easily slide across your flooring.
And, if you're storing items that don't need to be taken out frequently, such as out-of-season clothing, consider storage with airtight lids to keep dust at bay. Containers that can be easily opened and closed are ideal for storing items such as books or toys.
Size
Perhaps the most important factor in choosing under-bed storage is its size. The last thing you want to do is buy a container that doesn't fit under your bed. Take measurements of your bed frame as well as the height, length, and width of any storage containers you're considering.
The storage bin should ideally be at least one-half inch shorter than your bed frame, allowing you to have extra space to easily pull it in and out whenever you need to access items.
Storage Items
Finally, take some time to consider what you want to store. If you intend to store bulkier items, such as bedding, and extra linens, make sure the storage container is deep enough to accommodate them.
Because it can be inconvenient to pull storage containers from under your bed on a regular basis, you might want to reserve this storage space for seasonal items rather than everyday items. And, if you're storing delicate items that can easily fade or become damaged, selecting bins with airtight lids will help protect your items from dust, pests, and household debris.
However, if you intend to access your under-bed storage containers frequently, a lid-free storage bin may be preferable, as it will be easier to pull items out and put them away.
FAQs
How do I get more storage under my bed?
Raising the bed itself is the simplest way to make more space under a bed. To make room for taller or stackable storage, use risers or purchase an elevated frame.
What should you not store under the bed?
We recommend not storing heavy items under the bed because pulling them out can put extra strain on your back and shoulders and damage hardwood floors. Also, do not store uncovered clothing because it is susceptible to dust and insects if left unprotected for an extended period of time. Sentimental items and delicate fabrics, in particular, should never be left out in the open.
Is it a good idea to have under-bed storage?
If you need additional storage for your belongings, then taking advantage of the space underneath your bed may be a good idea. The ideal under-bed storage system will allow you to keep your belongings neat, organized, and well-edited.
How do I keep my under-bed storage area clean?
Because the area beneath the bed can become very dusty, it's important that your items be covered with a lid. You should also keep the area clean by sweeping or vacuuming on a regular basis to prevent dust buildup.
Though it's fine to store everyday, inexpensive items under the bed, your valuable designer pieces and heirlooms deserve a better home. That's why we recommend Hayden Hill clothes storage bags, made of 100% organic soft cotton, that is environmentally friendly and allows your favorite pieces to breathe while keeping them protected from damage. We deliver sustainable and beautiful garment care to preserve and protect the clothes you love most.