How To Maximize Space with Vertical Storage Solutions
Some rooms require plenty of storage space for numerous items, such as bedrooms and kitchens. Vertical storage allows you to make the most of every inch of these spaces. Experiment with the vertical space ideas listed below, and every room will feel more spacious.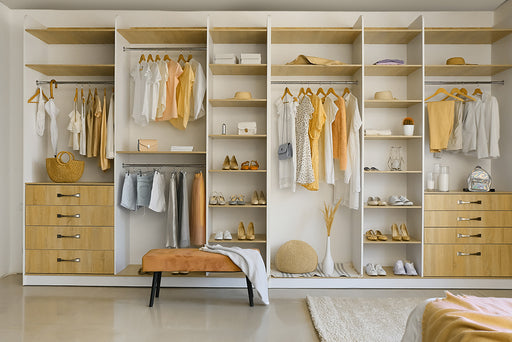 No matter its size, every home has its own unique organizing challenges.
Even the largest closets might struggle to contain an extensive shoe or handbag collection. And even an expansive office is quickly filled by an academic's personal library.
In these cases, one of the best ways to maximize the space in any room is to utilize vertical storage.
Why Should You Use Vertical Storage?
One of the best ways to organize and create more space in a room is to incorporate vertical storage, because it has several advantages:
Items can be stacked according to importance.
Belongings are easy to find.
Fit more items in a defined space.
Adjustable to fit the size of the space.
Protect What You Love with Exquisite Garment Storage
Free US Shipping & Free Returns
Vertical Storage Solutions
Here are a few ideas to help you take advantage of a room's vertical space.
1. File Shirts Vertically
When you store shirts in stacks, you are more likely to wear what is on the top and rarely get to items on the bottom. And, when you need to find a specific garment, you have to dig through dozens of items, creating a huge mess. Not only does this cause additional stress when you are pressed for time, but then you have to clean up the mess later.
No one has time for that.
This is what makes the KonMari shirt filing method so helpful. This method files shirts vertically, so you can see everything in the drawer.
The KonMari Method for Folding Short-Sleeved Shirts
Take one side of the shirt and fold it across the center.
Fold the opposite side the same way, stopping just before the edge of the shirt. You should have a rectangle.
Fold the rectangle in half lengthwise, but stop just before the edge of the shirt.
Fold again, either another half or a third.
By the time you finish folding the KonMari way, your shirt should be able to stand up vertically on a table. Now, start filing those shirts into the drawer.
2. Install Shelving
Make the most of bare walls in a closet or spare room by adding shelves as vertical storage. Shadow boxes, floating shelves, bookcases, and other forms of shelving and a complete closet makeover will allow you to store and display a variety of items.
3. Use Hooks and Racks
Strategically placed racks and hooks create space in unlikely places. For example, a couple of coat hooks in the foyer can add space for coats, storing purses, and scarves. Hooks in the kitchen can be used for cooking utensils. Adding hooks and racks in the bathroom can organize electrical devices and toiletries.
The uses for hooks and racks are endless, such as organizing spices, condiments, cleaning supplies, storing jewelry, and more.
4. Customize Your Closet to Your Wardrobe
When designing your closet, add areas for short and long items. Instead of letting long clothing, like maxi dresses, pool onto the floor, have a hanging space that is a bit taller than your longest piece of clothing.
Everything in a closet should be organized by length, and then by season, color, or occasion.
5. Utilize Clothing Racks
It can be fun to put some of your favorite pieces on display with a garment rack.
Clothing racks are ideal for keeping ironed or dry cleaned items wrinkle-free. Another advantage of using a garment rack is that it allows for diverse storage. You can hang accessories on the rack or store shoes in nice storage boxes under the rack.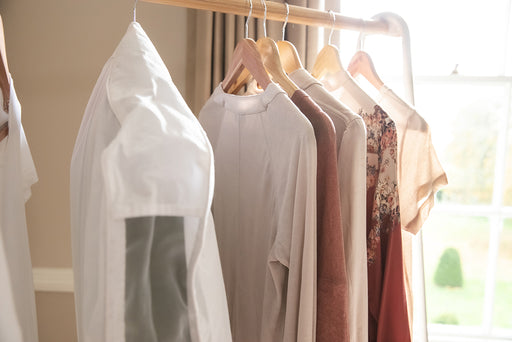 6. Stack Colorful Boxes
Organizing your clothing by color one way to organize your closet. It is most helpful to those with a wardrobe that has a variety of colors. By color-sorting clothes, you can pick out coordinating pieces for an outfit in minutes, rather than flipping through a dozen pieces.
One fun way to incorporate color coordination is to purchase colored storage boxes and bins. Put the items of the matching color in the bin then stack the boxes. Alternatively, you can use clothing storage bags and add color labels to them. It's a quick way to locate an item, all the while keeping specific pieces together.
7. Purchase Over-the-Door Organizers
The back of a door is an often overlooked space. Fortunately, there are over-the-door hooks and storage units that let you make use of this area. This space can be used to hang different styles of hats, purses, scarves, and other accessories. It may also be ideal for hanging up your outfit and accessories for the following day.
An over-the-door organizer in the bathroom or linen closet can hold toiletries or cleaning supplies. In the kitchen, they can be used to organize plastic containers or spices.
8. Add a Clothing Rod
If your closet allows, consider adding a curtain rod either above or below an existing rod. You can add more hanging space for shorter items like shirts, skirts, and jackets. Or, you can add a rod to store and hang purses and handbags on s-hooks.
9. Put Items on Display
Some of your belongings are likely beautiful enough to be displayed. Shelves, decorative hooks, or racks could hold designer purses, books, or pots and pans. There are dozens of ways to put your favorite items on display while staying organized.
FAQs
1. How do I organize my clothes vertically?
The easiest way to organize clothing vertically is with stackable storage bins, vertical over-the-door organizers, or hooks. Hanging racks, rods, shelving, and bins are all excellent vertical storage solutions.
2. What is a vertical fold?
Vertical folding refers to organizing clothing in your drawers vertically, meaning they are filed rather than stacked on top of one another. This technique allows you to easily see the contents of each drawer.
3. How do I create vertical space in a closet?
Closets that best utilize vertical space have shelves, drawers, and storage that extend from floor to ceiling. Add vertical storage space to a closet by installing hanging closet organizers, over-the-door hooks, a chest of drawers, and stacking bins, boxes or clothes storage bags.
4. In what order do you hang clothes in the closet?
There are many ways to organize hanging clothes in the closet. Arrange your clothes by length, by color, by season, or by occasion. But, avoid hanging items that can get stretched on the hanger, such as t-shirts and heavy knit sweaters.
Some rooms require plenty of storage space for numerous items, such as bedrooms and kitchens. Vertical storage allows you to make the most of every inch of these spaces. Experiment with the vertical space ideas listed above, and every room will feel more spacious.