9 Creative Ways to Store Jewelry
It is easy to amass quite a large collection of jewelry. To help you locate what you would like to wear with any outfit, a robust organizing system is a must. Review these nine organizing recommendations and choose the ones that appeal to you most. Certainly, your jewelry will be a dazzling finishing touch to any outfit.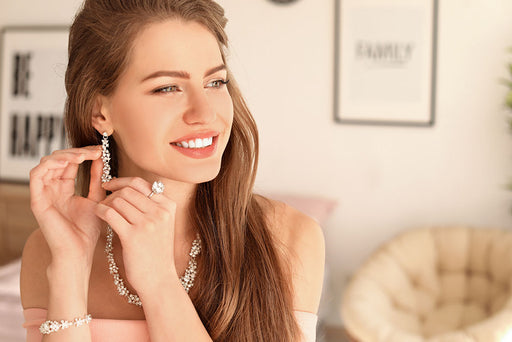 Italian fashion designer Donatella Versace said, "Wear a fabulous smile, great jewelry and know that you are totally and utterly in control."
If you share Donatella's opinion, and you have a large wardrobe, then you also have a large jewelry collection. A variety of earrings, necklaces, bracelets, and rings all ready to mix and match with the perfect outfit requires a well-functioning organization system.
But before organizing your collection, it is best to first declutter your jewelry and remove any accessories that are no longer in style or you no longer like to wear.
Declutter Then Clean Your Jewelry
When decluttering your jewelry collection, separate the pieces into the following categories:
Jewelry and accessories you wear every day
Items you use for special occasions, like weddings, parties, and dates
Your most precious jewelry, including rare family heirlooms
Items that are tarnished or in need of repair
Items that you no longer want
Divide everything up into these categories, and consider selling, gifting, or donating unwanted items that are in good shape.
Take any items that need to be repaired to the jeweler. Anything that is tarnished should be cleaned with either a polishing cloth or cleaning product, such as dish detergent and lukewarm water. Keeping your jewelry clean will prevent further tarnishing in the future.
Protect What You Love with Exquisite Garment Storage
Free US Shipping & Free Returns
Separate Jewelry by Type of Metal
Believe it or not, the best way to store costume jewelry is different from how to store silver or gold. Furthermore, you should keep silver jewelry far away from gold. These metals will interact with one another, causing tarnishing!
You will see a few tips below on how to store silver jewelry, gold jewelry, and other fine or delicate pieces, like pearls.
9 Creative Ways to Store Your Jewelry
In a sea of jewelry boxes, bags, necklace trees, hooks, pegboards, and other solutions, which are best? While the options are plenty, it's important to store certain metals properly. Regardless of your available space or preferences, these nine ways to store your jewelry will give you a variety of storage options:
1. Use Wall Trees For Everyday Jewelry
Displaying your most frequently worn jewelry on a wall tree makes selecting your jewelry each day easy and convenient. A wall tree looks like rows of pegs or hooks, on which you can hang individual rings, bracelets, and necklaces.
2. Recycle Wine Bottles
Whenever you stumble upon a gorgeous bottle that you don't want to throw away, repurpose it! For example, you can line up those bottles along your bureau or vanity and use them to display bracelets. Stack your bangles and bracelets up on the neck.
3. Place Silver in Boxes
The best way to store silver jewelry is to box it. Silver jewelry maintains its condition when placed in a box lined with felt. Silver is infamous for tarnishing when exposed to moisture, which is why you use felt to absorb any dampness.
Any larger silver pieces, such as layered necklaces or silver watches, can be kept in individual silver pouches or wrapped in a polishing cloth. However, even with perfect storage practices, silver still ages, so remove your silver once in a while to polish it.
4. Keep Fine Jewels Hidden
You know that place where you keep your Louboutin heels and Dolce Gabbana handbags? Put your precious gems there, too. Fine jewelry needs to be stored away from direct sun exposure and humidity. There are many precious stones that react poorly to UV light. Pearls, for example, should be kept in a wooden box with felt lining. Never store pearls in a plastic bag or box, because the plastic causes pearls to deteriorate faster.
Furthermore, do not store diamonds with other gems. While diamond studs can be placed in a cute dish on the nightstand, you should not put it with your sapphire ring. Diamonds can damage other stones and metals.
Safes make an ideal location for storing valuable and heirloom pieces of jewelry. In fact, you can even purchase safes specifically for jewelry storage, which protect your valued items from burglary, fire, and floods.
5. Designate a Jewelry Drawer
If you have an empty drawer in the closet or bureau, store your jewelry in it. Shallow drawers are best for jewelry, since felt-lined jewelry organizers fit perfectly inside. You can find jewelry organizers online that have differently sized compartments for rings, earrings, and necklaces. Sort your favorites into these slots then tuck them away, out of sight and away from sunlight, until you need them. Plus, drawers free up space on the top of your chest, vanity, or bureau for other things.
6. Utilize Tabletop Organization
If you plan on storing jewelry in plain sight or on a countertop, maximize any available vertical space. There are plenty of stackable boxes on the market that make excellent jewelry organizers.
If you have a lot of necklaces, bracelets, and watches, choose multi-tier organizers that use vertical space.
7. Copy Jewelry Store Displays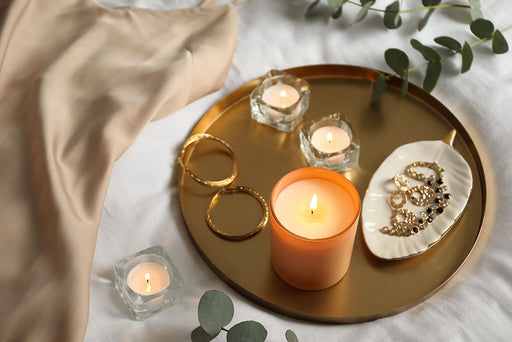 Ever notice how jewelry on display always looks stunning? Jewelry stores design their cases to catch your attention and keep you looking. But they also excel at efficient storage. In other words, think about your favorite jewelry displays and use that for inspiration.
Some examples include:
Marble coasters or tiny dishes to hold your favorite necklace or pair of earrings
Wooden trays for long necklaces or bracelets
Antique metal muffin tins or ceramic bowls for rings or earrings
Draping necklaces, anklets, and bracelets over a piece of quartz or amethyst
8. Select Rotating Jewelry Displays
A great way to keep all your essential jewelry in one spot is with a rotating jewelry display. These options are kind of like a lazy Susan or turntable, where you can swivel the display to find what you need. Many designs exist, some with hooks for longer necklaces or little slots for vertically lining up rings.
Again, stay away from plastic and instead use wood. If you want a clear rotating jewelry display, go with acrylic.
9. Purchase a Jewelry Armoire
If you have enough space, store your jewelry in an armoire. This is an easy solution that provides enough drawers, compartments, rods, hooks, and shelves for everything in your jewelry collection, including your finer items.
FAQs
1. How do you store jewelry at home?
When organizing and storing jewelry at home, invest in a high quality jewelry box, preferably one that is stackable to save space. Cool, dry places are best for storing jewelry, because the fastest way to tarnish metals is to expose them to moisture and liquids.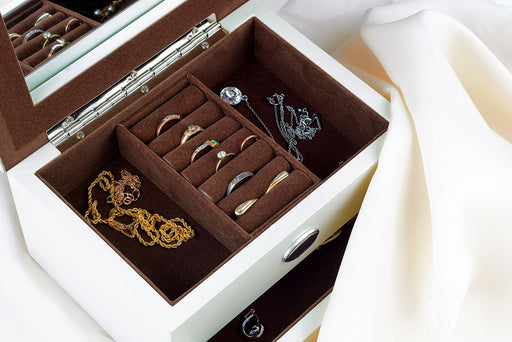 2. Is it OK to store jewelry in plastic bags?
No, storing jewelry in plastic bags is not recommended. When you store jewelry, such as gold and silver, in plastic bags, the metals will start to lose their luster. Plastic bags are also not breathable and may turn your items yellow over time. The best way to protect your jewelry from damage is to store your valuables away from moisture, inside a beautiful jewelry box.
3. How do you store jewelry safely?
Keeping your glittering jewels and accessories safe at home requires some planning. Purchase a good jewelry box, and keep your finest jewelry in a climate-controlled location and out of direct sunlight. Avoid humidity, as well, as that can cause tarnishing. And, do not store your jewelry in plastic bags.
4. Should I keep jewelry boxes?
You do not have to keep the jewelry boxes that your rings, bracelets, and necklaces came in—unless you want to. Most of the time, those boxes start to pile up, causing clutter. The best method is to purchase a larger jewelry box to store all your precious jewelry inside. Keep only the boxes that you want and remove the excess.
5. How do you declutter jewelry?
Decluttering jewelry can be difficult, especially when there is some sentimentality attached to some pieces. The pieces that mean a lot to you can stay and should be kept somewhere safe, such as a high quality jewelry box. Choose the accessories that you use most often and store them somewhere convenient like on a wall tree. The jewelry that you have never worn or are not attached to can be sold or given away.
6. How do you store family jewelry?
The best way to store important family jewels and heirlooms is in jewelry boxes with sufficient padding. Put the boxes somewhere climate-controlled and with low humidity. Keep your family jewelry away from direct sun exposure.
It is easy to amass quite a large collection of jewelry. To help you locate what you would like to wear with any outfit, a robust organizing system is a must. Review these nine organizing recommendations and choose the ones that appeal to you most. Certainly, your jewelry will be a dazzling finishing touch to any outfit.