Everything You Need to Know About Artisan Jewelry
Artisan jewelry is most simply defined as wearable pieces handcrafted by a skilled craftsperson. Crafted from a variety of materials, artisan jewelry can include sterling silver jewelry, beaded bracelets, necklaces, handmade rings with gemstones, and fine metal workings. The common factor in artisan jewelry design is that everything is handmade and unique.
In recent years, there has been renewed interest in artisan jewelry. The personal touch and love that artisans put into their work can be seen in the beautifully designed art they create.
Mass-produced jewelry is fine for those looking for something simple, but it is not a great fit for individuals who want to express themselves and show their personalities through their jewelry. Handmade jewelry is customizable and special, allowing you to stand out from the crowd.
But, with so many online and local artisans selling jewelry, it can be challenging to find the right piece for you. Etsy alone has more than 250,000 products considered "artisan jewelry." Before you start shopping, it helps to know a bit more about handmade jewelry and to narrow down what you are looking for.
What is Artisan Jewelry?
Artisan jewelry is most simply defined as wearable pieces handcrafted by a skilled craftsperson. Crafted from a variety of materials, artisan jewelry can include sterling silver jewelry, beaded bracelets, necklaces, handmade rings with gemstones, and fine metal workings. The common factor in artisan jewelry design is that everything is handmade and unique.
Because of the extra time required to create each item, artisanal jewelry may be more expensive than something mass-produced. In most cases, the price is determined by the raw materials used to create the jewelry.
What is an Artisan?
The term artisan comes from the Italian word artigiano, which means "one who is engaged in and skilled at making things." An artisan is someone who creates something useful, whether it is edible, wearable, or a piece of furniture. In contrast, an artist creates pieces that are created solely for their aesthetic value.
An artisan may create something that is both beautiful and functional, such as a coffee cup or a one-of-kind engagement ring.
Questions to Ask Before Buying Handmade Jewelry
Before shopping for handmade jewelry, pause to ask yourself a few questions to help narrow down and expedite the search.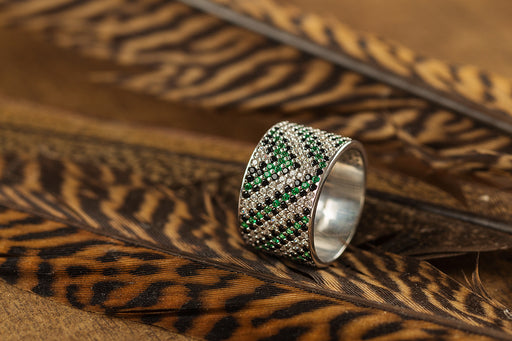 1. Are you buying artisan jewelry for yourself or as a gift?
Artisan jewelry is a truly unique and perfect gift. It demonstrates that you took the time to select a piece with a certain person in mind. That person's style and preferences will help guide you as you select the right jewelry type, materials and style. But, if the handmade jewelry is for you, it can be harder to select a piece because you'll likely be drawn to so many different items. Consider some of these additional questions to make it easier.
2. Do you prefer a classic or eclectic look?
If you prefer the classics, consider buying a beautifully designed, single-strand necklace with matching bracelets and earrings. This look is timeless and appropriate for any occasion.
If your style is more eclectic, unique, and bold, you could choose a large, chunky necklace or several, smaller layering necklaces or bracelets. Larger rings with gemstones can also be worn as cocktail rings.
3. What is your body type?
Another factor you can consider when selecting jewelry is your body type. If you have a petite figure, more delicate pieces may be more suitable to avoid being overpowered by your jewelry. For example, when choosing earrings you can choose the best earrings for your face shape.
If you're tall or have a large bone structure, the sky's the limit. Big and dramatic pieces will look great on you, and you can easily pull off the layered look.
However, rules are meant to be broken. Wear what you like and what makes you feel confident.
4. What will you wear the jewelry with?
If you first identify the outfit you need jewelry for, it can help guide you to the best jewelry pieces and styles. For example, if you need jewelry for a formal event and you plan to wear a cocktail dress with a high neckline, then perhaps you want to look for a pair of striking and large earrings or a statement necklace.
Matching jewelry with an outfit will also help prevent buying pieces that you never use.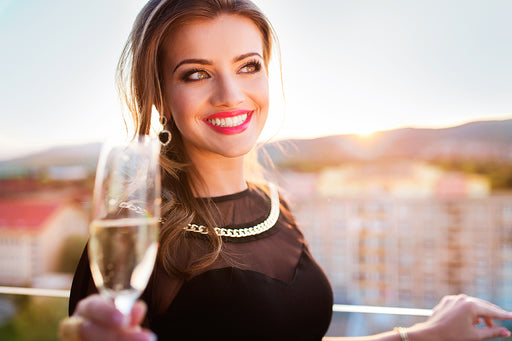 How to Choose the Right Artisan Jewelry
You may have several goals you want to accomplish with your artisan jewelry purchase. You may want pieces that fit your taste and style, are from a reputable artisan, or are created from ethical materials.
To be sure you have the exact piece that meets all your requirements, keep this advice in mind.
Look for Reputable Jewelry Artisans
The first consideration when selecting unique artisan jewelry is the designer's reputation. Are they known as being trustworthy and reliable?
Jewelry designers who have been in the business for a long time are usually more knowledgeable about their craft and have an established reputation. Before visiting a shop, research them by reading online reviews and/or asking friends about their experiences.
Protect What You Love with Exquisite Garment Storage
Free US Shipping & Free Returns
Choose an Artisan with the Right Specialty
Most handmade jewelry designers specialize in one or two techniques, such as wire wrapping, stone setting, casting, or engraving. Depending on the item you are looking for, you might prefer a jeweler who specializes in a specific type of jewelry.
If you're looking for an engagement ring, it may be best to go to someone who specializes in stone settings, or if you are looking for simple earrings or bracelets, you may want a designer who makes sterling silver jewelry.
Select Jewelry Made from Ethical Materials
A frequent problem in the jewelry industry is the use of dubious materials. From blood diamonds to fine metals sourced unethically, many of the materials used to make standard jewelry are the product of exploitation and maltreatment.
If you're going to buy handcrafted jewelry, make sure it is made from ethical materials. Ask artisans you are considering where the raw materials they use came from.
Opt for Jewelry Made From Long-Lasting Materials
Nobody wants cheap jewelry. We have all experienced wearing earrings that leave your earlobes red or rings that turn your fingers green. Mass-produced, inexpensive jewelry is generally of lower quality and can easily break. Artisan jewelry, however, is usually made of high-quality materials and is made to last for years to come.
Types of Handmade Jewelry
Assembled Jewelry Making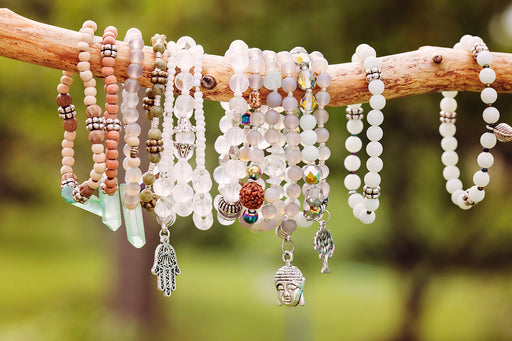 Typically, this type of jewelry-making entails using pre-made charms, chains, and jewelry components to make necklaces, earrings, and bracelets. Assembled jewelry is a great way to get unique and personalized jewelry at a lower price.
Wire-Wrapped Jewelry
To make pendants or charms with stones and beads, the majority of craftsmen use wire wrapping. The most basic form of wire-wrapped jewelry is a frame with additional ornaments attached with spirals of wrapped wire. However, some experts in wire wrapping can use wire weaving methods to create extremely detailed and delicate designs.
Fabricated Jewelry
The term handmade fabricated jewelry refers to a broad range of jewelry designs, from classic gemstone rings to imaginative art jewelry. Metalsmithing methods and jewelry bench expertise are used in the fabrication of the process of making jewelry.
When cutting delicate features or the piece's basic shape, jewelers use a metal saw. And, soldering is commonly used for joining components together. It can be as easy as joining two pieces together or as difficult as making a dozen solder joints.
Beaded Jewelry
Depending on the type of beads used, handmade beaded jewelry can have very simple or extremely complex designs. Bracelets and necklaces can be made by threading beads on a single strand of material. Beads come in many different types including those personalized with letters or numbers, in creative shapes that showcase interests, or giant statement beads framed by smaller beads.
Beads can be used as accent elements and are made with a variety of materials. Copper beads, gemstone beads, crystal beads, wood beads, and clay beads are all used by artisans.
Enameled Metal Jewelry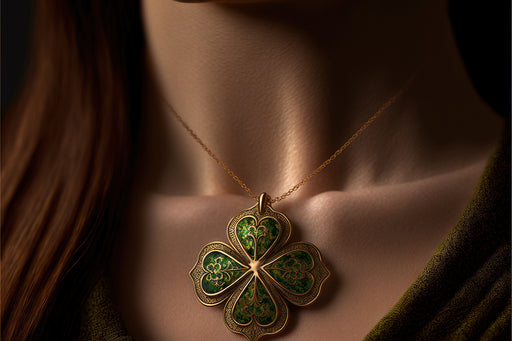 Enameled embellishments are a great way to give metal jewelry pieces a splash of color. Enameling is the process of permanently bonding glass powder to the surface of metals. Enamel can be incorporated into handcrafted jewelry in a variety of ways. Torch-firing is currently the most widely used method.
FAQs
What does artisan mean in jewelry?
An artisan is a master craftsman who makes jewelry from different types of materials. The word comes from the Italian word artigiano, which means someone involved in and skillful at creating things.
Is a jeweler an artisan?
A jeweler can be an artisan if he or she makes handcrafted jewelry. An artisan uses metals, gemstones, and other materials to create unique and high-quality items like handmade rings, bracelets, earrings, and necklaces.
What is crafting jewelry called?
Crafting means making objects with your hands, so crafting jewelry is often referred to as handcrafted jewelry or artisan jewelry.
Is jewelry handmade or handcrafted?
The terms "handmade" and "handcrafted" are generally used interchangeably and have similar meanings. Anything that is handmade was created by people, rather than machines. The same can be said about handcrafted jewelry.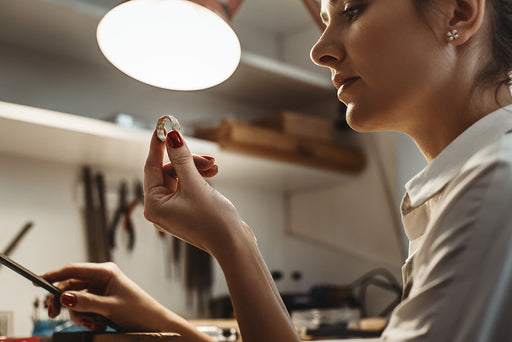 Artisan jewelry pieces are beautiful and unique additions to your wardrobe. And, just as artisan jewelry is treasured for its uniqueness, Hayden Hill large storage bags are uniquely made of 100% organic, soft cotton that is environmentally friendly and allows your favorite pieces to breathe while keeping them protected from damage. We deliver sustainable and beautiful garment care to preserve and store the jewelry you love most.