9 Alternatives to Bedroom Dressers
Dressers certainly have their purposes and benefits. They have been and will continue to be around for many years. However, it's always good to know what type of dresser alternatives are out there.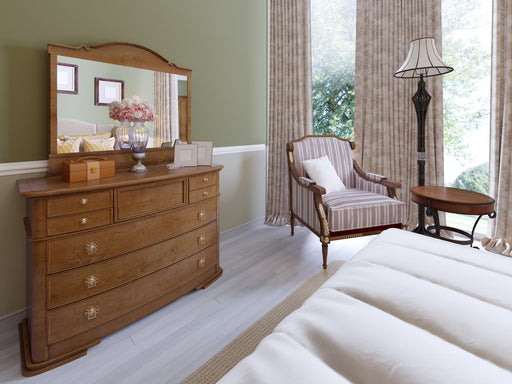 Are you considering renovating your bedroom? Imagine having an open space where natural light and calm energy flows. A peaceful retreat.

One obstacle that may keep you from creating such a retreat is too much furniture, specifically dressers.

Dressers take up quite a bit of space and add clutter to a room. But if you need the storage space that a dresser provides, there are other alternatives you might consider.
Wall-Mounted Closet Organizer
A wall-mounted closet organizer is one of the most popular alternatives to a dresser. And with good reason. This type of organizer is the most practical way to organize your clothing. Closet organizers come in so many different shapes and designs that they can cater to anyone's wardrobe needs.

It is always best to custom-design your closet organizer. An organizer that fits perfectly in your space will allow you to store more clothing and can be catered to your preferences for drawers, shelves, and hanging space.

Another benefit of a wall-mounted closet organizer is that it makes organizing and keeping your items organized easier. Every piece you own has a designated and logical home.
Protect What You Love with Exquisite Garment Storage
Free US Shipping & Free Returns
Trunks and Chests
A trunk, also known as a travel trunk, is an ideal substitute for a bedroom dresser. Though designed and commonly used for travel, trunks fit perfectly at the foot of your bed and can help with your bedroom organization ideas.

When choosing a trunk to store your clothes, feel free to color outside the lines. Though trunks are traditionally placed at the foot of the bed, your bedroom means your rules. Get creative and put the trunk in a corner as a piece of furniture all its own, or use a trunk as a bedside table.

Another great thing about trunks and chests is that they coordinate with a variety of design styles. Trunks come in many different colors and materials and can easily contribute to the aesthetic of your bedroom.
Vintage Suitcases
Vintage suitcases are an uncommon and unique alternative to a dresser in your bedroom, which may make them the perfect solution for your room. Much like trunks and chests, suitcases can store folded clothes and serve as room decor.

Vintage suitcases bring a certain charm and character to a room, especially if they are stacked on top of each other in an irregular form and in different shades. Find them at vintage stores, but give them a thorough cleaning when you bring them home. Another upgrade on the vintage suitcase can be a cotton storage bag to place inside it to protect your pieces. The last thing you want is your clothes to smell musty.

Another great thing about vintage suitcases is that they can easily be moved if you don't like how they look or if you need to open up some space in your bedroom. You can place them under the bed as a storage solution or take them to another area of the house or storage unit.
Pullout Bed Drawers
Pullout bed drawers are ideal for adding storage that cannot be seen, as they reside under your bed.

They allow you to maximize your bedroom space and organize your clothes. Under bed drawers can store everything from your out-of-season clothes to bed linens.

Pullout drawers can also easily be tailored to your preferences whether you have custom drawers built to fit your bed or boxes on casters that can easily roll in and out.
Armoire
For a more classic, elegant, and distinctive look, choose an armoire as a bedroom dresser alternative. Armoires are made of natural materials and include carved wooden designs. However, an armoire can be just as bulky as a dresser and usually has a traditional feel, so if you are going for a modern or minimalistic look, it might not be the right choice.

An armoire does have a few distinct advantages. It usually consists of two components - an upper cabinet and a set of drawers, which gives you additional hanging storage space. And an armoire is a good solution for those who don't like their clothes displayed.

An armoire can also store more than just clothes. This alternative with drawers allows for shoe storage, or it could be the perfect place for your undergarments.
Garment Racks
A garment rack is a minimalist dresser alternative with a modern vibe that creates a high-end boutique feel. By choosing a garment rack as a dresser alternative, you are able to infuse a pop of color and some unique shapes into the aesthetic of your bedroom. It can be fun to put some of your favorite pieces on display with a garment rack.

The garment rack is ideal for keeping ironed or dry cleaned items wrinkle-free. Another advantage of using a garment rack is that it allows for diverse storage. You can hang accessories on the rack or store shoes in nice storage boxes under the rack.
Above-Bed Shelving
Above-bed shelving allows you to maximize the vertical space in your bedroom. And, this kind of shelving provides a significant amount of additional storage space.

Another benefit of above-bed shelving is that it can be customized to your individual needs. Of course, you could buy a standard shelving unit that fits the measurements of your bedroom, but a customized solution will more effectively store your belongings.

The one disadvantage of above-bed shelving is clutter. Because they do use vertical wall space, they may detract from the open, airy look you are going for.
Bedside Tables
This dresser alternative works on a few levels. Bedside tables can help organize some of your smaller clothes like undergarments, leggings, scarves, or t-shirts. And these tables are usually compact and don't take up too much of your bedroom space.

A bedside table is also one of the most practical and functional pieces of bedroom furniture. You can store items in drawers below and on the table's surface. It is the perfect place to place a book, alarm clock, pills, vitamins, or a water glass.
Decorative Wall Hooks
Wall hooks are essential tools for minimalistic storage. Hooks do not take up any space but are both functional and beautiful for organizing a room.

Use hooks in bedrooms, bathrooms, or closets to store a variety of items such as bathrobes, jackets, to store your handbags, umbrellas, jewelry, or scarves. You can hang them linearly in one row or at different heights or even different walls.

Another advantage of using decorative wall hooks is that they are made in a variety of styles. Consider using vintage door knobs instead of traditional hooks. Choose colored hooks to add pops of color to the room. Or use hooks to add different metals and finishes.
FAQs
What can I use instead of a dresser in the bedroom?
There are so many alternatives to using a dresser in your bedroom. Depending on your needs, you could use closets, trunks, open shelving, garment racks, hooks, and so much more. The best thing about these alternatives is that they are all multi-purpose items. These storage pieces also serve as decor pieces, and add interest to any room.
Are dressers outdated?
There is no universal answer to whether dressers are outdated. It depends on your style, needs, bedroom space, and personal preference. One could argue that dressers are outdated, especially when there are so many creative alternatives. However, the dresser is a classic piece of bedroom furniture that can help you protect your clothes in cotton garment bags. The most important thing when decorating your bedroom is that it fits you and your personality.
Dressers certainly have their purposes and benefits. They have been and will continue to be around for many years. However, there is nothing wrong with having options and choosing a dresser alternative that fits you best. After all, interior designer Bunny Williams said it best: "If you love something, it will work. That's the only real rule."
Filed under: closet organization, clothing care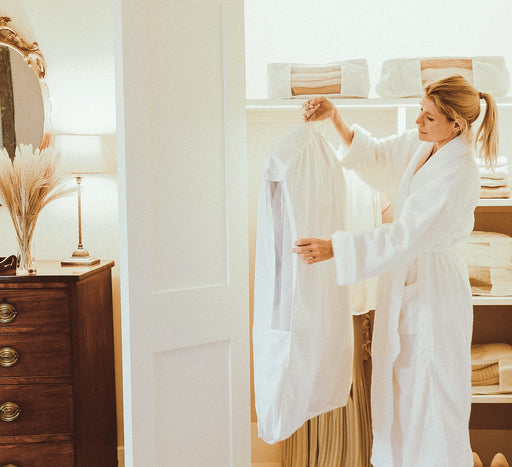 Protect What You Love
A better way to protect and organize your clothes
Receive 15% Off