14 Tips for Organizing Your Bedroom
Organizing your bedroom can be a satisfying project if you use these tips and tricks. Read our article to find out how to make your bedroom the best place in your home and enjoy it in the best way possible.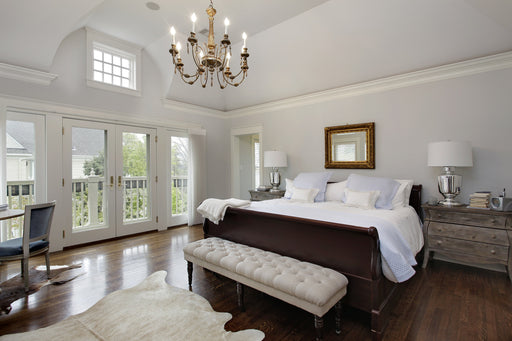 Jonathan Scott, of Property Brothers fame, said, "The sole purpose of the bedroom is to melt away any stressors."

That sounds fantastic, and it's true that we all need a space in our home where we can relax. But, it can be hard to relax if your bedroom is filled with clutter.

Fortunately, with a few tips and tricks, you can kick the clutter and turn your room into a retreat.
14 Bedroom Organization Ideas
These organizing ideas will help you create a game plan to transform your bedroom.
1. Go in the Right Order
The first step in organizing your bedroom is to break the project down into smaller tasks. If you attempt to clean out your entire bedroom and closet in one organizing session, you will quickly get overwhelmed. Instead, divide your bedroom into categories or zones, and tackle each one at a time. Those categories could be furniture like dressers or chests, or they could be collections, such as shoes or jewelry. Just make sure each category is small enough that you can organize it in one session Here is our article on how to organize shoes.

The next step in organizing is to sort your items. Separate items into three categories: keep, recycle, or donate. If you have anything you're unsure about, stick it in a "maybe" pile, and then sort through that pile once you are finished with everything else.

Removing things to be recycled or donated will help you see a difference in your room almost immediately.
2. Give Every Item a Home
Regardless of what room, drawer, or shelf you are organizing, give every item a home. Giving items a designated place or storage bin will make it a lot easier to keep your room organized. Once you know where something belongs, you can return it to that place after using it. 
If you find it hard to remember where some items go, use labels or even sticky notes as a temporary solution. This ensures you and everyone else in your home know where their items belong.
Protect What You Love with Exquisite Garment Storage
Free US Shipping & Free Returns
3. Utilize Over-the-Door Storage
The bedroom door is an often overlooked space. Fortunately, there are over-the-door hooks and storage units that let you make use of this area. This space can be used to hang hats, purses, scarves, and other accessories. It may also be ideal for hanging up your outfit and accessories for the following day.
4. Stock Your Nightstand with Essentials
Bedroom nightstands can easily become junk drawers. To prevent that, take a few moments to consider what essentials you need within reach from bed.

For example, you might put in your night cream, reading glasses, bottled water, hair ties, charging cables, a notebook or journal, and so on.
5. Organize Jewelry With Hooks
Wall key racks can be ideal for organizing necklaces and other accessories. Necklaces tend to get tangled when placed in jewelry boxes, so hang them on your wall instead. This helps you see exactly what you have and allows you to display your jewelry like artwork.
Our tips on how to store jewelry can help you with more ideas.

Another option is to install a small rod and hang individual "S" hooks from it. Place necklaces or bracelets on the S hooks to keep them separated and easy to remove.
6. Pick Storage Containers You Love
Find storage bins, containers, boxes, and organizers that you think are beautiful. If you love shades of pink, select storage ottomans, under the bed trunks, shelving, and drawer organizers that are the same color. If you choose containers you like, you will be more motivated to use them and keep their contents in order.
7. Get Creative With Utility Carts
Utility carts are all-purpose organizers for any room of the house and come in several sizes and colors. Utility carts make it easier to corral items such as electronics, books, snacks, or even decorations. These carts are especially handy for things you may transport from room to room.
8. Purchase a Bedside Caddy
For those small items you want within reach while you're lying in bed, such as a magazine, Kindle, phone, eyeglasses, or remote, consider getting a bedside caddy. These caddies tuck easily beneath the mattress and hold a few lightweight items.
9. Divide Drawers into Sections
Are you frustrated by clothes you place in a drawer getting mixed up? There is a simple fix that also eliminates the need to fold every single piece of laundry: drawer dividers. These organizers divide drawers into sections so you have individual places for different types of clothing.

This is also a great way to declutter your undergarment drawers. Even these items can benefit from being divided into dressier and more casual garments.
10. Look For Functional Furniture
If you have been thinking of buying new bedroom furniture, there are many that include drawers and headboards with shelves. You can find bed frames with under-the-bed storage, outlets for your devices, lighting, book shelves, and even sliding doors to keep items out of sight. Having more functional furniture reduces the need for other pieces like chests, trunks, and nightstands.
11. Maximize Vertical Wall Space
In homes with tall ceilings, there is often a lot of blank wall space. Consider adding shelves above furniture pieces such as dressers or chests to have additional storage space. Attractive storage boxes can hide clothing, accessories, or mementos. And, wall shelves make an excellent place to display books.
12. Consider a Professional Closet System
Professional closet systems turn cookie cutter closets into customized wardrobe solutions. These systems allow you to fit more in the closet, while making every item easy to find.

Professional closet systems are truly personalized, created to fit the dimensions of your personal type of closet and designed with your wardrobe in mind.
13. Keep Your Seasonal Clothes Tucked Away
Keeping all of your clothes in one closet year-round can result in overcrowded and wrinkled clothing.

Out-of-season items should be stored in a secondary closet or in airtight containers or in clothes storage bags elsewhere in the home. Rotating your wardrobe based on the seasons ensures you can easily see what items are available to wear, and it protects your other garments from damage.
14. File T-Shirts Vertically
There is a reason many home organization professionals use this method to fold t-shirts. Storing t-shirts vertically allows you to better see all your shirts at one time, and it takes up less space.
FAQs
1. What is the easiest way to organize a bedroom?
The first step to organize a cluttered bedroom is to break the project down into smaller tasks. Then begin sorting through items, one group at a time. Create piles of items to keep, donate, and recycle. Once you do that, you can start designating spaces for your belongings and placing items into bins and boxes.
2. How do you organize a small bedroom?
If you have a small bedroom with inadequate storage space, take advantage of often overlooked spaces like the back of the door and under the bed space. Use blank wall space to add shelving, and shop for functional furniture that has built-in storage.
3. What is the quickest way to organize a bedroom?
If you are short on time and need to organize your bedroom, skip buying storage containers and adding shelves. You will have the most impact by simply sorting through your things. Be ruthless in identifying items that you do not currently use or like to donate or recycle. By removing a few things, everything will fit in your current storage space better. Then, when you have more time, you can think about what organizing products would help you make better use of your space.
Organizing your bedroom can be a satisfying project if you use these tips and tricks. To keep from getting overwhelmed, break it down into smaller tasks and sort your items before organizing the remainder.
Filed under: closet organization, clothing care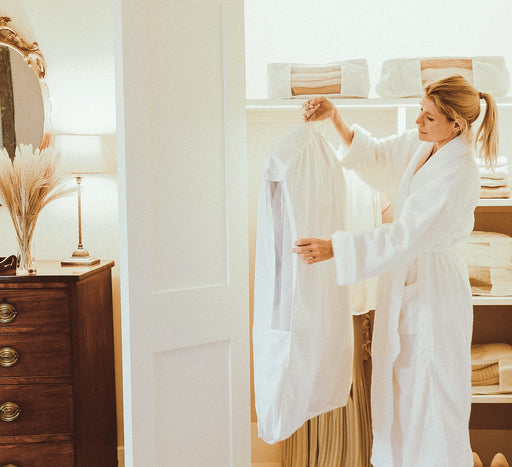 Protect What You Love
A better way to protect and organize your clothes
Receive 15% Off