Decoding the Most Common Dress Codes
Dress codes have been around as long as clothes themselves. Clothing has long served as a status symbol, a weapon in social reform fights, and a means of maintaining political authority. Dress codes have evolved in tandem with social and political ideas, but they always represented power and status.
The word "dress code" may bring to mind school uniforms, black tie events, or business attire, but a dress code is simply a set of rules specifying what a group of people must wear.
Navigating assorted dress codes can prove to be complicated. While cocktail and dinner events are probably frequently on your social calendar, how often do you get to wear your black and white tie outfits? Other invitations specify "outdoor elegant," "festive," or "come as you are" attire.
In this article, we will explore the most common dress codes, so you will be prepared for any occasion.
The History of the Dress Code
Dress codes have been around as long as clothes themselves. Clothing has long served as a status symbol, a weapon in social reform fights, and a means of maintaining political authority. Dress codes have evolved in tandem with social and political ideas, but they always represented power and status.
In today's more casual culture, dress codes still dictate what we wear and how and when we wear it. Even when no formal standards exist, unwritten dress codes still affect social inclusion, perception, and career opportunities.
Different Types of Dress Codes
Today, we recognize the need for personal style, and its impact on a person's sense of security and authenticity.
This is a valid need since we all have different personalities and our clothing choices help express those personalities.
However, though a lack of a dress code may be fine in some situations, it can be disastrous in others. As a result, it is important to consider the dress code for each situation and in light of its intricacies.
Black-Tie Dress Code
When an invitation specifies black-tie clothing, it signifies you should arrive prepared to impress in your black-tie attire. Nothing you wear should be out of place or clash, and this includes everything from your shoes to your hair.
What to Wear to a Black-Tie Event
For black-tie attire, a dress should be floor-length, though it can have a delicate side slit or be slightly shorter in the front to reveal a little leg. You should avoid anything too revealing.
The neckline of your dress should compliment your body, and jewelry for a black-tie event should be determined by the neckline of the dress you choose.
V-shaped necklaces work well with v-necklines, large but short pendants work well with scoop necklines, and chokers work well with strapless dresses, to name a few.
And, though there are no color restrictions for black tie events, you should avoid wearing bright colors or striking prints. When choosing a color to wear, if you do not want to wear a black dress, you can rely on colors that complement your skin tone and do not make you appear washed out. Shoes for a black-tie event should be high heels in a classic style.
Cocktail Dress Code
Cocktail attire is regarded as the standard dress code for nighttime events and some parties. Traditionally, the rule for cocktail attire was - unless otherwise stated on the invitation - men should wear suits and women a cocktail dress.
But today, cocktail attire has become more adaptable, fashion-forward, and semi-formal. In fact, cocktail dress includes several different types of attire, such as festive cocktail, formal cocktail, business, garden, casual, or beach cocktail.
What to Wear to a Cocktail Party
The type of cocktail party you are attending will determine your attire.
Protect What You Love with Exquisite Garment Storage
Free US Shipping & Free Returns
Conventional Cocktail Dress Code
Conventional or formal events that specify a formal, business, or wedding cocktail dress code require solid colors. Choosing a traditional cocktail garment in a deeper shade (black, navy, or dark purple) can be an ideal choice for a conventional cocktail event.
Find a dress that has a neutral tone and is chic and stylish. You can accessorize the dress with silver or gold jewels and classic black heels. Shoes for a cocktail party should be in a neutral or dark color.
Modern Cocktail Dress Code
Casual or relaxed cocktail events leave room to inject fun and creativity into your outfits. Solid colors are fine for garden, resort, beach, and casual cocktail dress codes, but these events are opportunities to shine by wearing different patterns, lengths, and colors.
Casual cocktail attire falls in between cocktail and business casual. Denim is still inappropriate, but an expensive dress and a pair of heels are not required.
A feminine pencil skirt always looks stylish and put-together. Combine the skirt with a silk blouse or a smooth, form-fitting sweater and a stunning statement necklace. Tailored pants in black or navy are a great option. To achieve the perfect mix of cocktail and casual, pair your black pants with a cream blouse, and accessorize with pumps and bold jewelry.
Festive Cocktail Dress Code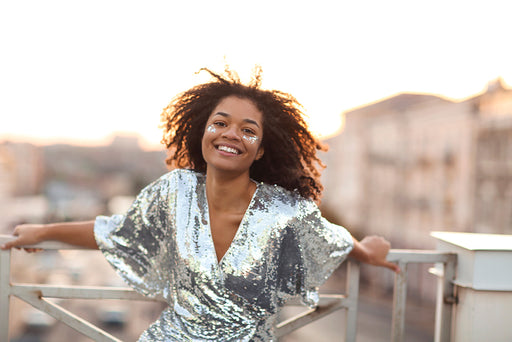 One of the most fun types of cocktail attire is the festive cocktail dress code. Festive attire, also known as holiday attire, differs from other dress codes in that it highlights certain colors, patterns, and fabrics that evoke the holiday spirit.
Sequins, cashmere, velvet, corduroy, tweed, tartan, reds, greens, golds, and a plethora of sparkles and glitter are all fashionable festive attire. And, festive clothes aren't just for holidays - this dress code can also apply to imaginative and creative cocktail outfits.
Dressy Casual Or Smart Casual Dress Code
A dressy casual dress code, also known as casual chic, is a mix of dressy and casual pieces. Dressy casual attire is often needed for daytime gatherings and weddings—the earlier the event, the less formal the clothing. If the event is taking place at night, it is recommended to lean toward the more formal end.
In general, this dress code is best described as laid back. Think bright and light colors and comfortable materials, rather than finer materials like satin and diamonds. You can wear more flowy clothes, and even bold prints are appropriate. A sweater dress or maxi dress are excellent examples of dressy casual.
What to Wear to a Dressy Casual Event
There are a lot of creative possibilities with this dress code, and while it's exciting to buy something new, you can often work with something already in your closet and express your creativity through accessories. For example, instead of wearing flats with a maxi dress, try a cute pair of boots and some bold earrings that stand out.
A guaranteed way to nail the dressy-casual dress code is by combining a blouse or collared shirt with a pair of non-denim pants. Or, if you'd like to wear jeans, choose a dark-wash, slim-fitting pair without rips or distressing.
And, you can't go wrong with a formal jumpsuit that has a playful element. When following the dressy casual or smart casual dress code, you can also wear a cocktail dress. But save those for evening events with a dressy casual bag.
Business Dress Code
Over the last 10 to 15 years, workplace culture has shifted, and many offices have switched from business formal to business casual dress codes. Even some historically formal businesses, such as Wall Street banks, are easing their dress standards.
These cultural changes did not occur overnight; they reflect broader developments in the workplace.
Relaxed dress requirements do not imply that there are no guidelines about how to dress. Some things will almost certainly never be appropriate, and it is critical to understand the two types of business dress codes.
Business Professional Dress Code
The traditional suit and tie best describes business professional dress code.
This clothing code is distinguished by its conservatism. The best way to master this dress code is to keep it simple.
Business professionals' expectations of their business attire are the most conventional - no matter where you go, the expectations are largely the same.
There's no need to buy a lot of clothes for this business attire because it's all about simplicity. Purchase a few suits with coordinating button-up shirts, hosiery, and dress shoes.
What to Wear for Business Professional Attire
It's vital to feel comfortable when dressing for the office because you'll be wearing these clothes throughout the long workday. Pants are a smart choice because they are more comfortable to move and sit in than a tailored dress or a skirt.
Choosing a dark suit, a classic collared shirt, and matching dark shoes, with minimal and classic jewelry is a safe bet for this dress code.
Business Casual Dress Code
One of the most common dress codes for all offices is the business casual dress code. This dress code allows for more freedom when it comes to personal expression.
Business casual may be the most difficult to put together because all businesses have different definitions of this code. The best thing to do is to start small with simple outfits and make adjustments as you get to know your new workplace.
What to Wear for Business Casual Attire
Because women's apparel is more intricate than men's, choosing appropriate business casual wear can be difficult.
Cotton, linen, and wool pants are always great options for office wear. To look your best, be sure that they fit your body well and are wrinkle-free.
Use blouses and shirts to add a splash of color to an outfit. There are many attractive colors that will compliment your skin tone, hair color, and eyes.
Pastels, plaids, muted florals, jewel tones, and designs like paisley, polka dot, or geometric all work.
FAQs
How many types of dress codes are there?
Dress codes are almost as old as clothes, so it is difficult to define and categorize them all. The most common dress codes are black tie, cocktail, dressy casual, and business.
How would you describe dress code?
When you mention that a place or occasion has a dress code, it suggests that they have a set of restrictions regarding what kind of clothing can be worn there. A dress code creates uniformity and a sense of belonging. Above all, it clarifies what is expected of people - no one wants to be underdressed or overdressed.
Understanding the most common dress codes means you will arrive at every event and occasion dressed appropriately and stylishly. In some cases, your clothing will steal the spotlight, and in other cases, it will be more understated so your personality shines through.
And, when it comes to storing your formal wear and professional attire, care for them well by keeping them in garment bags. Hayden Hill garments bags are uniquely made of 100% organic, soft cotton that is environmentally friendly and allows your favorite pieces to breathe while keeping them protected from damage. We deliver sustainable and beautiful garment care to preserve and protect the clothes you love most.
Filed under: fashion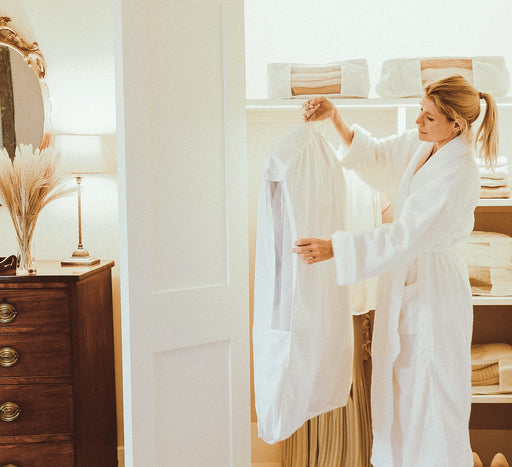 Protect What You Love
A better way to protect and organize your clothes
Receive 15% Off