Be True to Your Values and Style with Stylist Jenna Flood
"It's easy to duplicate something you see in a magazine. But interpreting a look and putting your own stamp on it is a skill that will make you more confident. And, this experimentation will help you find and evolve your style."
There are only approximately 40,000 fashion stylists in the world, compared to nearly 700,000 accountants, 4.6 million dentists, and 26 million mobile app developers, just to name a few.
Fashion styling is a rare occupation, and sustainable fashion styling is even more so. That is just one reason why we were excited to talk with Melbourne-based slow fashion stylist Jenna Flood of Ironic Minimalist.
Flood is one of Australia's up-and-coming personal and editorial stylists with creds such as speaking at Melbourne Fashion Week and a mention in Vogue Australia.
But before she gained attention as a leader in the slow fashion industry, she started her journey in a small town in Tasmania as a teenager who simply loved to experiment with fashion. Eventually, that teenager grew up, moved to Melbourne, and enrolled in the Australian Style Institute to pursue a career in fashion.
"ASI's styling program was amazing. I learned the technical side of styling, and I couldn't be doing what I do now without them. Then, halfway through my program, I discovered The Minimalists, and their message made sense to me. No one was talking about these ideas in our program or asking where our clothing came from. I decided then that if no one was talking about it, I would."
Finding The Minimalists was only the beginning. Jenna began to research fast fashion and the more she learned, the more passionate she became.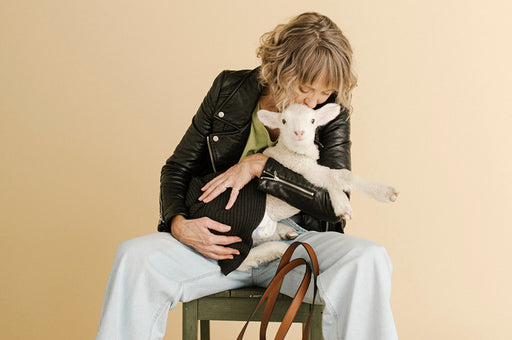 "[Fast fashion] hurts people. You don't see where your clothing is made and that our shopping choices can hurt other people. We would never put our own children to work in a sweatshop or want their environment to be polluted, so why would we support it for someone else? Why buy this stuff when we have access to so many secondhand clothes that are cheaper and have a story? I once bought a secondhand jacket that was made at one of the last remaining wool mills in Australia. I made a few calls and found out about the exact family who made it. I became a part of continuing its life and sharing in its history."
After graduating from ASI, Jenna launched Ironic Minimalist, where she shares her passion for slow fashion as a personal and editorial stylist and educator.
She has written articles for Cocktail Revolution and Ethical Clothing Australia and styled professional photo shoots for Flanelle Magazine and Four Paws Australia.
When writing or styling for shoots, Jenna shares the same message that she does when working with individuals.
Put a pause on shopping.
Jenna does this occasionally herself and calls it a wardrobe freeze. "You probably don't need as much stuff as you think, because you already have most of what you need. You just need to look at what you have in a different way."
Look at what you have.
Flood recommends looking through what you already own. Many times we forget some of the items we have. "Take stock of what you wear and what you own, and take photos or make a list of everything. And get rid of what you don't wear. There's no point in keeping things you don't like or don't fit."
Find alternatives to buying new.
And, if you need something new or a replacement, get creative about how to find what you need. "There are many sustainable options that don't have to cost millions of dollars. Go secondhand shopping or see if a friend has something you can borrow. Renting is another great option."
Part of Jenna's approach is asking her clients to consider why they buy what they buy, and she admits that this requires them to think more before making a purchase.
"Some people are driven by trends. Some are creatures of habit who buy the same things over and over. Instead, start with what you have, and ask yourself a few questions about each item: 'Why did I buy this and what do or don't I like about it?' Make notes either way, and take those notes the next time you go shopping. Then, you won't be tempted to buy the same thing again. It makes you more aware of what you are actually buying and slowly creates a new habit."
Photographer: Tiffany Yang @mstiffanyyang for Moss Magazine
After guiding her clients to make more thoughtful and sustainable purchases, Jenna uses her traditional styling background to help her clients find styles that are best for their body types and give them tips on how to tweak their looks.
But, neither Jenna nor her clients have to give up a love for fashion in order to be more sustainable. Jenna recommends using fashion magazines and runway looks as inspiration. Take the looks you like and translate them to your style with what you already have in your wardrobe. And, if you are missing items, ask a friend if they have something, or consider upcycling a piece you already own.
"It's easy to duplicate something you see in a magazine. But interpreting a look and putting your own stamp on it is a skill that will make you more confident. And, this experimentation will help you find and evolve your style."
As Jenna likes to say, "The slow journey gets the best results."
And, that's true in more than just fashion. As you engage in sustainable fashion more and more, you may start to question other areas like where your food comes from, how much time you spend on your phone, or how many things you want on your schedule.
Jenna Flood encourages us all to step out of the fast lane and give slow living a chance.
Filed under: fashion, interview, sustainability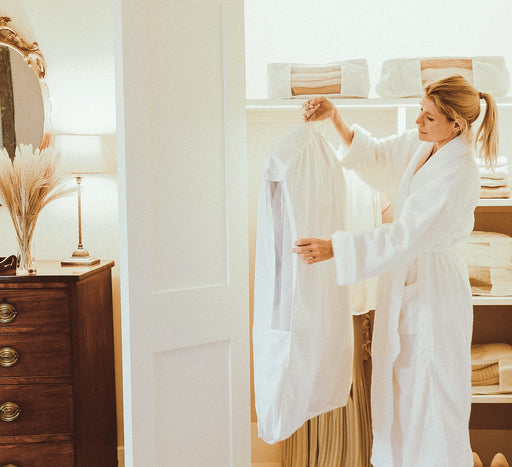 Protect What You Love
A better way to protect and organize your clothes
Receive 15% Off