Things to Consider When Buying a Laundry Basket
Piles of unfinished laundry can be the reality in any home, but putting systems in place and taking advantage of certain tools can make this never-ending task more manageable. A functional and beautiful laundry basket is one tool that will keep your clothes out of sight and organized.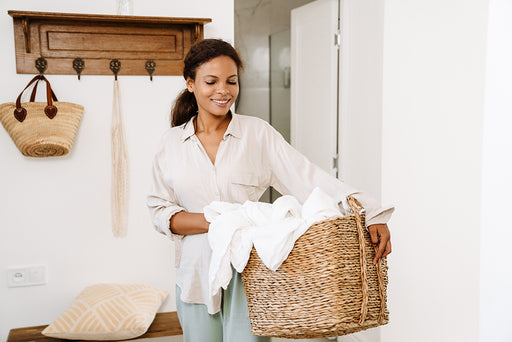 Piles of unfinished laundry can be the reality in any home, but putting systems in place and taking advantage of certain tools can make this never-ending task more manageable.
A functional and beautiful laundry basket is one tool that will keep your clothes out of sight and organized.
Things to Consider When Buying a Laundry Basket
Purchasing a laundry basket may seem like an easy decision that requires little forethought. However, selecting the ideal basket for you is easier when you start by asking yourself these questions:
How frequently do you do laundry?
How much do you typically accumulate between washes?
Are you collecting laundry for the entire family, for you and your partner, or just for yourself?
What type of clothes are you washing?
Where will you put the basket in your home?
Do you need a basket that can be folded and put away when not in use?
Do you want a basket made from synthetic materials or from natural, breathable fabrics that keep clothes from becoming musty?
Are you looking for a basket that is only functional or something that complements your interior?
Would you like a basket with handles to make carrying laundry from room to room easier?
Your basket will likely be used every week, if not every day, so investing in an attractive and quality laundry basket is sensible. If you do not like the visual clutter of laundry, consider purchasing a laundry basket with a lid.
Regardless of what your preferences are, laundry baskets come in a variety of materials, styles, and sizes.
Materials
Most laundry baskets and hampers are made from woven, wicker, or plastic materials.
Plastic baskets in general are strong, lightweight, and inexpensive. Though typically not the most fashionable, they are very practical. Plastic resists mildew better than other materials, and a quick wipe with a cloth or sponge will keep the basket clean.
Wicker baskets are considered to be more stylish. They are also strong, durable, and lightweight. Wicker, which is often made of thin materials like reed, cane, willow, oak, and ash, could disintegrate over time and snag your laundry. So, if your wardrobe is filled with delicates, it may be best not to use a wicker basket.
Woven baskets are made from natural materials like cotton, grasses, and palm leaves and may be blended with plastic and other synthetic materials. They are thought to be more fashionable and have multiple purposes beyond laundry, such as storage, decorative plant holders, and toy bins. Woven natural materials are a good choice if you're looking for an eco-friendly laundry basket.
Handles
Handles should be soft for carrying and strong enough to sustain the weight of a loaded basket. Putting too much weight in your basket, especially with damp, heavy clothes, stresses the handles.
Some baskets have handles built right into the sides, which distribute the weight of the basket to make carrying the basket easier. Thin handles on baskets make it difficult to evenly distribute the weight of the basket and put additional strain on your hands. On woven baskets, handles are often sewn close to the top of the basket. Many people like handles that are long or flexible since they can grasp the basket with both hands.
Protect What You Love with Exquisite Garment Storage
Free US Shipping & Free Returns
Ventilation
Ventilation, which comes from the wide weaving of wicker or purposefully designed holes in a solid basket, is an important feature that frequently goes unnoticed. Wicker or rattan baskets with cotton liners promote ventilation between the two breathable layers. However, if you choose a basket that is not made of breathable materials, select a style with holes to ensure your clothes get adequate ventilation.
Capacity
Different people require different sizes or capacities of laundry baskets. Baskets come in a range of sizes, from 20 liters to 120 liters, and sometimes even more. Always make sure the laundry basket you purchase can hold your average load of clothes.
Design
When choosing a laundry basket, you should also think about its style. Depending on your personal preferences and the size of your family, you can find divided laundry baskets, baskets on wheels, baskets with lids, and collapsible baskets.
Types of Laundry Baskets
Plastic Laundry Basket
Plastic baskets are known for being simple, affordable, and lightweight. They come in a wide range of features and colors, and despite their low cost, are quite durable. Plastic baskets are easy to store because they weigh so little and can be used for a variety of other applications for organizing and storage.
Wicker Laundry Basket
If you want something elegant but still functional, wicker laundry baskets are a perfect choice. Wicker baskets can be made of rattan, bamboo, or reed. These laundry baskets have remained popular among homeowners throughout the years due to their usefulness, light weight, and coordination with a variety of home décor and styles. They allow air to circulate through them, which helps to lessen the odor of dirty laundry until it can be washed.
Woven Laundry Basket
Typically thick, strong, and high quality, woven laundry baskets are made from a variety of natural or synthetic materials. Because they are lightweight, woven baskets are ideal for placing on high shelves. And, their wire frame provides support that helps these baskets keep their shape. Woven laundry baskets come in a variety of shapes, colors, and designs.
Wire Laundry Basket
When you hear the phrase "wire laundry basket," images of an old farmhouse or colonial-era storehouse will likely come to mind. Laundry baskets can be made using thin, flexible wire. They come in a variety of shapes and sizes, and some even have removable drawers and washable liners, but almost all of them have that great, recognizable vintage look. Its solid construction, which is sometimes complemented by horizontal supports, sturdy legs, and occasionally even castor wheels, effortlessly balances its rustic style. However, numerous online stores also offer wire laundry baskets with a modern twist.
Metal Laundry Basket
Metal laundry baskets encompass a variety of products made from wire, aluminum, and stainless steel in combination with fabric materials. Metal baskets can be filled with dirty clothes, linens, or other bulky items to keep them hidden. The interior lining makes it simple to transport everything to the laundry when it needs to be washed, while the metal portion keeps small children, animals, and insects out.
Mesh Laundry Basket
Mesh is a material made synthetically from nylon or polyester. It is distinguished by its thin weight and loosely woven, permeable texture, which causes noticeable small holes across the entire material itself. The term "mesh laundry basket" typically refers to a basket type that can be quickly and easily folded up when not in use. These baskets come in a variety of colors and sizes, but their see-through construction and room-saving features are a constant feature.
Cotton Laundry Basket
Cotton fabric is known for its aesthetic appeal, durability, natural comfort, and simplicity. Due to its incredible versatility, it is one of the most often used materials when designing and producing any kind of product.
Depending on the intended use, cotton laundry baskets may be manufactured completely of cotton material or be blended with other types of fabric. The majority of cotton baskets available today are hand or machine washable, light, portable, and very useful for storing dirty laundry, household items, and accessories.
Polyester Laundry Basket
Polyester is a synthetic fiber that is non-absorbent and non-breathable but is resistant to stretching and shrinking. Polyester laundry baskets are a good option for high-stress outdoor use or to keep water and moisture away from your laundry items.
Canvas Laundry Basket
Canvas refers to the fabric created from the fibers of linen and is very strong. Because of its low cost and ready availability, it has been used for centuries to create and manufacture a variety of things.
Canvas baskets are relatively lightweight in design and easy to carry, making them a favorite among homemakers—especially those with large families or who have a high volume of laundry loads. Canvas baskets come in a wide variety of designs and styles and are even favored by the hospitality industry because of their durability and low maintenance.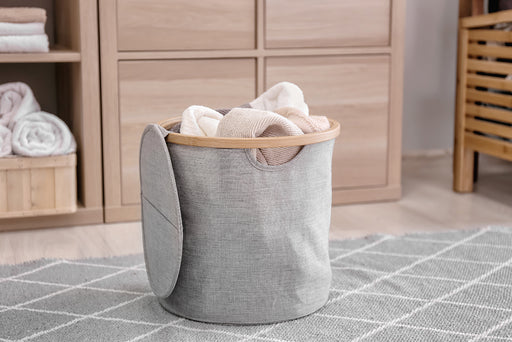 FAQs
What is the best place to keep a laundry basket?
There are no specific rules for where to keep a laundry basket in your home. However, it's preferable to put them in areas where people typically change clothing. Usually, you can find laundry baskets in the bedroom, bathroom or in the laundry room.
How big should my laundry basket be?
There are many different sizes, shapes, and types of laundry baskets. A typical plastic basket measures approximately 23 inches in length, 17 to 19 inches in width, and 10.5 inches in height. There is no set size, however, and you can easily find variations that are smaller and larger than this. Keep factors like space limitations and your laundry routine in mind when choosing a basket size.
When choosing a laundry basket or any other product, start by deciding what matters most to you, whether it's functionality, beauty, cost, or sustainability. And, if more than one thing is important to you, rank them in order and begin looking for that feature first.
Hayden Hill is committed to sustainability, and it is possible to practice environmental consciousness even when shopping for laundry baskets. Reduce your use of plastic waste by choosing a laundry basket made of natural materials and support a brand that has ethical labor practices. Every sustainable purchase makes a difference in protecting our planet and its people.